Scottish doctors balloted for pension strike action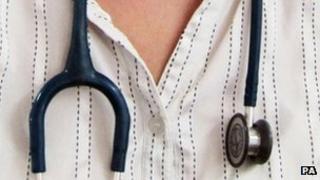 Hospital doctors in Scotland are being asked whether they are willing to go on strike to defend pension changes.
Planned reforms would mean doctors working longer and contributing up to 14.5% of their pay for their pension.
The British Medical Association (BMA) said the government failed to come up with an alternative offer to changes being imposed in England and Wales.
Scottish Health Secretary Alex Neil said there was no justification for industrial action.
The BMA, which has been in talks with the Scottish government over pensions, is now balloting hospital doctors on the issue.
The result could lead to strikes on December 12, January 8 and January 17, although emergency cover would still be provided.
Dr Nikki Thompson, deputy chair of the BMA's Scottish consultants' committee, accused the Scottish government of "talking up" its opposition to UK pension changes, but failing to deliver on its words.
Dr Thompson added: "Strike action is only ever a last resort but the intransigence of this Scottish government has left us with little option but to press ahead with a ballot for further industrial action.
"With their outspoken opposition to these plans and a commitment to negotiations, ministers have raised the expectations of NHS staff.
'Ever-tighter constraints'
"The Scottish government says that it is negotiating in good faith, yet has been unable to provide clarity on the scope of these negotiations - or come up with any genuine alternative to the English proposals."
Mr Neil said he was disappointed that BMA Scotland was balloting for industrial action when talks were still taking place.
The health secretary added: "The Scottish government remains willing to work in partnership with NHS trade unions to find a way forward on pensions issues within the ever-tighter constraints imposed on us by Westminster.
"We have been negotiating in good faith since March 2012 and, therefore, we see no justification for industrial action.
"While I do not support industrial action, I have made abundantly clear our opposition to the UK government's policy to increase employee contributions at this time and in this way."
Industrial action in June saw about 60% of GP surgeries in Scotland affected and 3,200 outpatient appointments and 450 inpatient and day cases cancelled.