Gordon Brown calls on SNP to answer independence questions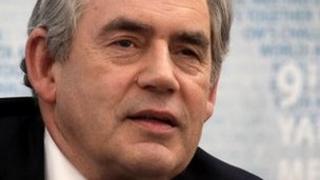 The former prime minister, Gordon Brown, has used a speech in his Fife constituency to demand answers over Scottish independence.
During an address to business people in Kirkcaldy, he accused the SNP of hiding the costs and risks of independence.
He called for the nationalists to comment on "twenty unanswered questions".
The SNP said Gordon Brown had failed to explain why he prefers Tory-rule from Westminster, rather than home rule.
Mr Brown said he was asking the "unanswered questions that hide the truth" about Scottish independence.
He said it was "not just about Europe and the euro - the issue of controversy of the last two weeks - but about mortgages, interest rates, pensions, child benefits, the monarchy, citizenship and the armed forces".
The Scottish and UK governments have signed a deal setting out terms for a Scottish independence referendum.
A vote will take place in autumn 2014, with a single Yes/No question on Scotland leaving the UK.
Aside from the European Union and euro questions, the former prime minister also wanted to know about the Scottish economy, fiscal policy and borrowing policy.
He said he was also seeking answers on Nato.
'Hidden risks'
Mr Brown said: "I call it 'blank page nationalism' hiding the truth about the costs and risks of independence.
"A year and a half into the debate the SNP started on independence they are still refusing to answer the unanswered questions about what happens the day after the creation of a separate state."
Mr Brown added: "The SNP has looked at the opinion polls, cynically decided that to make it more palatable they had to water down their proposals for a separate state by announcing they will stay in Nato, hold on to the pound sterling, speak in platitudes about 'a social union' and of course maintain the monarchy.
"They hope that by making the future a blank page and by effectively pulling the wool over people's eyes the country will not wake up to the full scale of the massive rupture they are plotting and planning."
SNP MSP for Kirkcaldy David Torrance said Mr Brown's speech had failed to explain why the former prime minister prefers Tory-rule from Westminster, rather than home rule with independence.
He added: "The question that Labour need to answer is why they want the key powers over jobs, the economy and welfare to be held by a Tory-led government at Westminster which is delivering inequality - rather than by the Scottish Parliament which is 100% accountable to the people of Scotland and committed to fairness."