Heart transplant patient backs NHS Organ Donor Register drive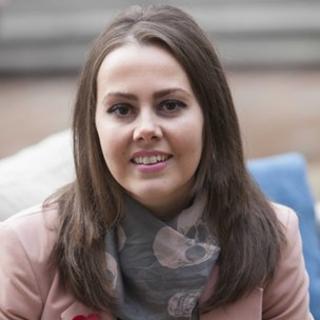 A heart transplant patient has helped launch the Scottish government's organ donor register drive and spoke of the donor who gave her the "gift of life".
Samantha Bell, from Cambuslang, has backed the TV and radio campaign to encourage more people to sign up.
More than 40% of Scots have joined the NHS Organ Donor Register.
However, health workers have warned that 15% of potential donors are lost in Scotland each year due to families overruling their loved ones dying wish.
Scotland's largest health board, NHS Greater Glasgow and Clyde, said it was encountering the issue "all too often" with "distraught" families and urged potential donors to make sure relatives were fully aware of and respected their decision.
The Scottish government has said that more than two million people have signed up to the register, but it wanted to see that number increase.
The new campaign says it only takes seven words to save up to seven lives - "I'd like to be an organ donor".
At the launch of the publicity drive, bank worker Ms Bell spoke about how she was given a new heart last year.
The 29-year-old, who was diagnosed with severe cardiomyopathy in her early 20s, explained that two years' ago her heart stopped while she was out for dinner with her boyfriend and his family.
Doctors told Ms Bell that she needed to be assessed for a heart transplant.
She said: "When doctors told me I was really confused. I knew it was the best thing but no matter how much information I had, I was still scared and didn't know what to expect.
"You need to be ill enough for a transplant but well enough to survive the operation and I knew my health was deteriorating.
"In February 2011 I went for the assessment to determine if I could be placed on the transplant waiting list. They had to check that my other organs could withstand the operation and in March of that year I was listed for transplant."
'Chat about it'
Two months later Ms Bell became gravely ill and was admitted to the Golden Jubilee National Hospital. She waited eight weeks for a suitable heart to become available and underwent successful surgery.
She said: "The staff at the Golden Jubilee were fantastic to me and I was finally able to leave hospital, just three weeks after my operation.
"I know I'll get back to full fitness again and I have my donor to thank for that. They gave me the gift of life and I can't thank their family enough.
"Joining the NHS Organ Donor Register is the most amazing thing anyone can do. I would encourage everyone to take two minutes and join now. Remember to let your family know what your wishes are so they can act on them if necessary."
Public Health Minister Michael Matheson said that Ms Bell's story was a "very real example" of how important organ donation was.
He added: "This new campaign has two simple yet equally important messages - join the register and have a chat about organ donation with your family and loved ones.
"It can be easy to put off such conversations but the reality is that more than 600 people in Scotland are waiting for a life-saving transplant and across the UK three people die every day because they don't get the organ they need in time."
The BMA in Scotland renewed calls for an "opt-out" system, arguing that 90% of the population support organ donation, yet only 40% have signed up.
Chairman Dr Brian Keighley said: "The BMA believes that a change to an opt-out system for organ donation addresses this problem, by making donation the default position from which people may opt out during their lifetime if they so wish."