Scottish independence: Law officers 'approved EU documents'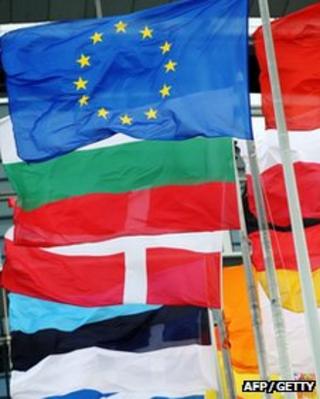 Law officers read and approved official documents claiming an independent Scotland would remain in the EU, the Scottish government has confirmed.
The issue of EU legal advice has led opposition MSPs to claim First Minister Alex Salmond has misled the public.
Mr Salmond told the BBC he had sought law officers' advice "in terms of the debate" on Scotland's future in Europe.
But the deputy first minister said the government did not have legal advice and would be commissioning it.
Nicola Sturgeon admitted an impression had been given that ministers already had legal advice, but she denied that impression had been formed, in part, by a BBC interview with Mr Salmond in March.
Ms Sturgeon told MSPs on Tuesday that no specific legal advice had been sought from law officers on the issue of an independent Scotland's EU membership.
She said she had now commissioned Lord Advocate Frank Mulholland, Scotland's senior law officer, to provide it.
Ms Sturgeon also announced the Scottish government was abandoning a legal action it had taken against the information commissioner which followed a request to publish whether or not the Scottish government had legal advice on the EU issue.
The government's legal costs, they said, were just under £4,000.
On Tuesday, and again on Thursday at first ministers questions, Mr Salmond clarified his remarks saying he was not referring to specific legal advice in the BBC interview but to general advice "underpinned" by law officers which covered official documents.
On Tuesday, Mr Salmond named the official documents. They are Choosing Scotland's Future which was published in 2007.
In Part 5 it states: "An independent Scotland would continue in the European Union and bear the burdens and fulfil the responsibilities of membership."
Another is Your Scotland, Your Voice, published in 2009. On page 110, it reads: "An independent Scotland would continue membership of the European Union, fulfilling the responsibilities which membership brings, and maintaining its political, economic and social links to Europe."
And Your Scotland, Your Referendum, published in 2012, said: "Under independence, Scotland would have the rights and responsibilities of a normal, sovereign state and continue its membership in the European Union."