David McLetchie: The man who rebuilt the Scottish Tories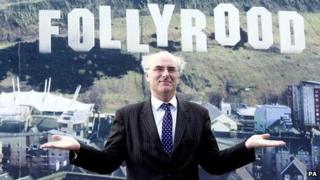 David McLetchie, who has died at the age of 61, was catapulted in his late 40s from little-known solicitor to one of the most-recognised figures in Scottish politics.
He became leader of the Scottish Conservatives just after it reached its nadir by being wiped out in the 1997 UK general election and led a mini-revival as the party which opposed devolution established a sound footing in the newly-created Scottish Parliament.
For six years he proved himself to be a worthy opponent for Labour first ministers and top figures in all parties before having to step down himself over questions about his expenses claims.
Born in Edinburgh in 1952, he went to school at the city's Leith Academy and George Heriot's School, before going on to study law at Edinburgh University.
As a solicitor, he specialised in handling inheritance tax changes brought in by the then Labour government at Westminster.
A huge Hearts fan and keen golfer, he became active in student politics from 1968 and stood as the Conservative candidate for Edinburgh Central in the 1979 General Election.
Mr McLetchie also held numerous senior positions within the Scottish Conservative Party at constituency and national level and was President of the Scottish Conservative and Unionist Association from 1994-97.
He served on Strathclyde Commission, set up to reform the Tories following the 1997 General Election, in which they lost all their Scottish seats.
The following year, he took on the Scottish Conservative leadership - described by commentators as the "job from hell" - and directed the party's campaign in the first Scottish Parliament elections in May 1999.
Despite being a close supporter of the former Conservative Scottish Secretary Michael Forsyth - a strong anti-devolutionist - Mr McLetchie embraced the new-found autonomy Holyrood provided.
He had the tough task of running a parliamentary group including members who didn't want devolution in the first place, but Mr McLetchie, elected as an MSP on the Lothian list in 1999, led something of a Conservative revival north of the border.
He showed himself to be effective in the parliament chamber, especially in his grilling of first ministers and achieved one of his finest moments as leader when the Tories won the Ayr by-election, beating Labour.
Mr McLetchie's constant questioning of Labour first minister Henry McLeish during the "Officegate" row over his Westminster parliamentary expenses played a large part in Mr McLeish's decision to resign from the top job.
Along with the SNP, Mr McLetchie also asked questions of Mr McLeish's successor, Jack McConnell, over a family holiday at the Majorcan home of broadcaster Kirsty Wark.
They claimed her then production company had made thousands of pounds from Scottish government contracts, while a contract from the BBC to produce a programme about the building of the new Scottish Parliament caused controversy itself, after the corporation refused to hand over un-aired footage to the Fraser Inquiry, set up to probe the Holyrood building fiasco.
Mr McConnell was later cleared of wrongdoing over the holiday, but Mr McLetchie had questioned whether the integrity of the Fraser Inquiry had been compromised.
In the 2003 Holyrood election, Mr McLetchie won the constituency of Edinburgh Pentlands, ejecting the then enterprise minister and future Labour leader Iain Gray.
He felt most at ease in the parliament's debating chamber, where his turn of phrase produced the necessary uncomfortable dig for government ministers and belly laughs from MSPs.
Paying tribute to Donald Dewar on one occasion, Mr McLetchie recalled the late first minister once accused him of having a "pawky manner", reminiscent of a Trollope novel.
Mr McLetchie said at the time: "As I sat in my seat thinking of a response, I knew only two things.
"First, it was Anthony and not Joanna Trollope whom he was talking about. Secondly, if Donald Dewar said that one was like a character from a Trollope novel, it was a judgement that it would be pointless to contest."
On another occasion, while deriding First Minister Jack McConnell's government strategy of "doing less, better", Mr McLetchie asked: "When is a priority not a priority?
"Answer - when it is the priority of a Scottish Executive minister who is trying to appease the interest group to which he or she last spoke.
"The result of this combination of political self interest and political cowardice is a completely incoherent approach in which everything is a priority and as a result nothing is a priority."
During Mr McLeish's time as first minister, he ruthlessly dismissed the Liberal Democrats as "Henry's little helpers" and branded the SNP "a pathetic excuse for an opposition party".
The year 2005 proved to be Mr McLetchie's downfall as leader and saw his resignation amid growing pressure over his Holyrood taxi expenses.
He spent £11,500 during five years - more than any other MSP.
He said the claims, which showed regular trips from Holyrood to the Edinburgh legal firm he worked at the time, were made in good faith, but the allegations were damaging the party.
One Tory MSP, Brian Monteith, had to quit the Tories after he admitted plotting against Mr McLetchie.
Robust style
Labour, keen for a bit of revenge after the Henry McLeish row, said at the time that "people in glass houses really shouldn't throw stones".
Mr McLetchie later said some journalists who covered the row were "an embarrassment" to fair-minded colleagues in the profession and insisted he would not be intimidated by "the pariahs of the press".
He also came out fighting after claims he backed a motion criticising the expansion of Edinburgh Airport without declaring the law firm in which he was a partner was advising an interested party, the Royal Highland Agricultural Society.
He described the allegations as "a disgraceful slur" on his character.
Nevertheless, Mr McLetchie held his Pentlands seat in 2007, with an increased majority, and took on the role of whip - seen as a key post, given the SNP's status at the time as a minority government.
Later in the parliamentary term, a complaint against him by two academics, Prof Drew Scott and Prof Andrew Hughes Hallet, was dismissed. They did not take to his robust style of questioning during a Holyrood committee session.
In the 2011 election, Mr McLetchie reverted to being a Lothians list MSP, having failed to win a seat based on new Holyrood boundaries, but seemed to have lost none of his vigour as he accused the SNP of engaging in "either a humiliating climbdown or a tactical retreat, or both" when it came to enacting many of its manifesto policies.
And he became the Tory representative on the board of Better Together, the official campaign to keep the Union ahead of the 2014 independence referendum.
He also, despite being an old-school Conservative, backed Murdo Fraser's ultimately failed attempt to become Scottish Tory leader and create a new political party in the process.
Realising the proposals were hugely controversial, Mr McLetchie was at pains to state party members "will want to be assured on many points" before final consent was given.
Mr McLetchie's personal experiences also shaped his politics - after nursing his first wife, Barbara, when she was dying of cancer, it led him to advocate the use of cannabis for medical purposes.
The politician used to joke that his decision to become an MSP was a "combination of a mid-life career change and a mid-life crisis".
In reality though, it was a challenge he had harboured since his teens - and despite it all, Mr McLetchie said he always considered serving as a member of parliament as one of the highest honours.