Scottish independence: MPs call for nuclear weapon deal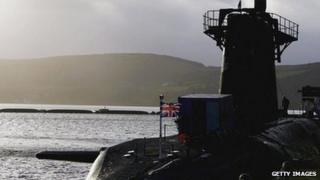 MPs have called for the UK and Scottish governments to reach a deal on nuclear weapons before the 2014 referendum.
The Commons Scottish Affairs Committee said it should be made clear what will happen if Scots vote for independence.
They warned the SNP policy of removing Trident from the Clyde could result in enforced nuclear disarmament for the rest of the UK.
The SNP has welcomed the committee's view that Trident could be removed "within months" of independence.
The committee's report said the UK and Scottish governments must fully detail the consequences of the removal of Trident as part of the whole secession agreement as soon as is practical.
Ian Davidson MP, the chair of the committee, said: "A separate Scotland would be presented with a choice over Trident: it could honour the longstanding commitment of the SNP that there should be no nuclear weapons in Scotland and insist on the 'speediest safe transition' of Trident from Scotland.
"In reality, Trident can be deactivated within a matter of days, and the warheads removed within 24 months.
"In the process, the UK would lose the ability to operate its nuclear deterrent and effectively be forced into unilateral disarmament, for an indeterminate period."
Mr Davidson said the alternative would be for an independent Scotland to allow Trident to remain on the Clyde until an alternative base is developed.
He added: "This option would mean armed nuclear submarines operating out of Scotland for 20 years or longer."
Findings welcomed
The SNP has welcomed the prospect of a prompt removal of nuclear weapons from Scotland.
Bill Kidd MSP, a member of the Council of Parliamentarians for Nuclear Non-proliferation and Disarmament, said: "These findings are to be welcomed, and only enhance the case for an independent Scotland where we can move forward towards a country free from Trident nuclear weapons.
"Trident is not wanted in Scotland, and never has been - yet the UK government are proposing to waste £100 billion dumping another generation of Trident nuclear weapons on the River Clyde.
"With independence, we can ensure that Scotland's share of the money wasted on Trident is diverted to building a stronger and fairer society."
UK Defence Secretary Philip Hammond has stressed his government's commitment to keeping Trident.
He said: "Our continuous submarine-based nuclear deterrent is the ultimate safeguard of our national security.
"We have made a clear commitment to maintain that deterrent and there is absolutely no question that the UK will unilaterally disarm."
Mr Hammond added: "We are confident that the Scottish people will choose to remain part of the United Kingdom."