Scottish independence: Opposition MSPs renew attack over EU membership advice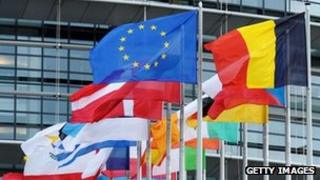 Opposition parties have renewed their attack on Alex Salmond, accusing him of misleading the public over an independent Scotland's EU membership.
Deputy First Minister Nicola Sturgeon told Holyrood that specific legal advice had just been commissioned.
However, Labour claimed that was a lie because Mr Salmond had revealed in a BBC interview in March that advice had been sought by the Scottish government.
The first minister denied he had lied and accused MSPs of selective quoting.
The BBC's Andrew Neil had asked Mr Salmond directly if he sought advice from the government's law officers on the question of Scotland's future in Europe to which the first minister said: "We have, yes, in terms of the debate."
Mr Salmond appeared before Holyrood on Tuesday to insist that he had been "talking about the issue of Scotland's EU membership in terms of general debate, and in terms of the many eminent legal opinions offered".
Ms Sturgeon further supported the first minister on Newsnight Scotland when she said any "fair-minded person" would agree with his explanation.
The debate continued into Wednesday with criticism continuing from opposition politicians, including Prime Minister David Cameron.
When asked about the issue by Liberal Democrat MP, Mike Crockart, at Prime Minister's Questions, Mr Cameron said: "We were told, I believe by the first minister in Scotland, that he had legal advice on Scotland's place in the EU in the event of independence.
"It turns out now they didn't have legal advice at all and this shows that when you shine the spotlight on the case for separation that the SNP puts, it completely falls apart."
Earlier, Scottish Tory Jackson Carlaw said Mr Salmond "had been misleading the public".
He told BBC Radio Scotland's Good Morning Scotland programme: "This is a man who is asking the people of Scotland to trust him with the creation of a new nation state. We have to have complete confidence in the individual that does that. And I think his credibility has been blown wide apart.
"Any fair-minded person is going to conclude the first minister has been disingenuous with the truth.
"This is a very important moment for the government because their credibility and their trust has been blown apart. And on an issue as crucial as this when we are deciding the fate of the country ahead, I think it really is inexcusable."
Scottish Labour's Jackie Baillie also reiterated her party's line that Mr Salmond had lied.
She told Good Morning Scotland: "There is absolutely no doubt in my mind that the first minister is guilty of lying on this issue.
"He's given the impression on several occasions now that this legal advice exists and it was greeted with some surprise yesterday when the deputy first minister said we haven't had any legal advice.
"Yesterday the SNP's credibility and the first minister's credibility was fatally damaged.
"I think the fundamental question here is honesty, honesty to the Scottish public so they can rely absolutely on the information they are presented with when they come to make that choice in two years' time."
Ms Baillie went on to call for Mr Salmond to make an emergency statement to Holyrood on the matter and to publish all advice the government had received on the matter.
The row erupted just hours after two MSPs quit the SNP because of its U-turn on Nato membership.
In her Newsnight Scotland interview, Ms Sturgeon said people needed to look at the whole of the exchange between the first minister and Andrew Neil.
She said: "Any fair-minded person who reads the entire transcript of that interview would see that what he was doing was talking about the general debate.
"He cited a number of legal opinions. He was also talking about general government documents all of which are underpinned by law officers' advice."
The issue of EU membership in an independent Scotland has already led to the law courts.
In July, Scotland's information commissioner Rosemary Agnew had requested Scottish ministers to either confirm or deny whether legal advice had been sought.
The Scottish government appealed that request at the Court of Session in Edinburgh.
The appeal was due to be heard by the court in the middle of December, but Ms Sturgeon revealed that the government was dropping that court battle.