Has Scottish government ignored its own independence consultation?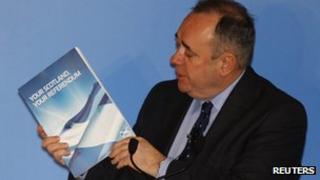 As we enter another winter, a reminder of the last time we had short days and long nights.
January 2012 saw the world's media summoned to a press conference within the ramparts of Edinburgh Castle.
What merited such a grand setting? No less a topic than Scotland's constitutional future.
Alex Salmond used the castle to launch his government's consultation on a referendum on Scottish independence.
He certainly attracted attention. Media companies from home and abroad turned up.
Later, one of the first minister's spin doctors would claim the event had a potential audience of more than a billion people.
That was largely based on the presence of Chinese TV and was predicated on every citizen of the People's Republic tuning into see the latest constitutional developments in Scotland.
But it was the audience at home that the consultation was really aimed at.
Responses from the public and various organisations were sought on issues such as the ballot paper, campaign spending and the mechanics of how the referendum would work.
Increased powers
One of the areas that most exercised those gathered in the castle was how many questions would be asked as part of the process.
A yes or no to independence would obviously feature given the SNP's victory in a majority of Holyrood seats in 2011.
But what about a third, so called "further devolution" or "devolution (devo) max" option, which would see increased powers for the Scottish Parliament, short of full independence?
It was not SNP policy.
Alex Salmond's party always made plain its preference for full independence.
But opinion polls suggest increasing Holyrood's powers is popular.
So, Mr Salmond's consultation paper said the Scottish government "is willing to include a question on further devolution in the referendum".
What's more, the consultation continued: "It will listen carefully to the views and arguments put forward on this issue in response to this consultation."
There were more than 26,000 responses to the consultation. It ran for five months and it took a further five months for details to be published.
But it seems that January commitment to "listen carefully" to views on a "further devolution" question didn't survive the politics of the following months.
Legal challenge
Last Monday, the Scottish government signed a deal with the UK government to guarantee a one question referendum asking voters to back or reject Scottish independence.
That morning, Deputy First Minister Nicola Sturgeon told BBC Radio Scotland's Good Morning Scotland programme, the deal had been done without her seeing the final analysis of the consultation.
So rather than "listen carefully" it seems the Scottish government decided to ignore part of their own consultation.
Why did they do it? The answer is to guarantee a referendum which would be free from legal challenge by transferring clear authority from Westminster to Holyrood to hold the vote.
The Act which established the Scottish Parliament reserved "the Union of the Kingdoms of Scotland and England" to Westminster.
Any Scottish Parliament attempt to legislate on opting out of that union would have been open to challenge in the courts.
Both sides were keen to avoid judges getting involved. That required compromise.
The UK government offered to send the powers north but only if one question was asked.
The Scottish government agreed, so long as they got to set the single question, timing and electorate.
That's politics.
'Further devolution'
The UK government was always opposed to a ballot paper which allowed more powers short of independence, even though polls suggest it is popular.
SNP ministers made it clear they wanted a single question too but would listen to other voices.
That allowed the Scottish government to endear itself to those who favour increased devolution by at least considering it.
When the consultation analysis was finally published, it showed that, of those respondents who commented on the issue of a second question, 32% were broadly in favour and 62% were not.
The three main reasons that respondents gave for wanting a second question were: greater choice for the electorate; devo max was felt to be the next logical step for Scotland; and it would provide the Scottish government with a stronger negotiating position in any future discussions with the UK government if the Scottish electorate was to vote no to independence.
But Ms Sturgeon's admission that final responses to "further devolution" weren't even seen by ministers before a deal dismissing them was done risks annoying those committed to more powers.
The Scottish government could have pressed ahead with legislation at Holyrood without dealing with Westminster and included a "further devolution" option on the ballot.
Ministers have previously said they believe they have the legal power to pose a question on extending the Scottish Parliament's powers.
But they chose to do a deal instead.
Where those voters committed to more powers go next may help determine the referendum's outcome.
Will they opt for full independence or the status quo, and hope other parties develop "further devolution" policies in the future?