Scottish independence: Consultation response to be published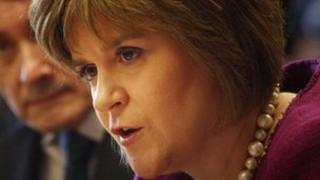 The Scottish government is to publish the response to its public consultation on the independence referendum.
Deputy First Minister Nicola Sturgeon will make a statement to MSPs on the analyses of responses, more than five months after the consultation ended.
An agreement was signed last week to deliver a legally binding, single-question referendum in 2014.
But Ms Sturgeon will say the public's views will still be influential in shaping the detail of the referendum.
The Scottish government has said it received more than 26,000 responses to the consultation, which were independently verified.
Issues raised included the proposed timetable, whether there should be weekend voting, who should oversee the running of the referendum and what the spending limits should be.
The consultation ran from 5 January to 11 May, leading to complaints that the deal signed in Edinburgh last week by Prime Minister David Cameron and First Minister Alex Salmond pre-empted the results.
The referendum agreement was made during parliamentary recess, meaning that Tuesday - when MSPs return to the Holyrood chamber - will be the first available opportunity for them to be formally updated.
The UK government has agreed to grant limited powers to Holyrood to hold a legally binding referendum through a Section 30 order, which was laid at the Scottish Parliament on Monday.
The deal will also see Holyrood legislate for the date of the referendum, whether to reduce the voting age to 16, the wording of the question, campaign finance rules and the conduct of the referendum.