Police body criticises plan to scrap corroboration rule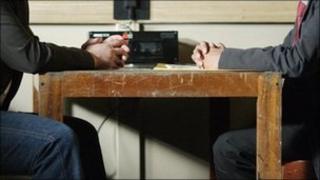 Scottish police officers have joined High Court judges in opposing plans to scrap the requirement for corroboration in Scottish criminal prosecutions.
The Scottish Police Federation said the rule ensuring all key evidence was backed by two sources provided "fundamental safeguards".
They were responding to a public consultation on a review of Scots criminal law carried out last year.
Earlier this week, High Court judges also rejected plans to scrap the rule.
They argued that corroboration provided a safeguard against miscarriages of justice.
In his review of criminal law, Judge Lord Carloway said the corroboration rule was archaic and no longer had a place in a modern legal system.
But the Scottish Police Federation, which represents rank and file officers, said it was an important safeguard.
'Safeguards'
General secretary Calum Steele told BBC Radio Scotland: "Corroboration provides safeguards on both sides of the criminal justice equation.
"It provides fundamental safeguards for the police officers that are involved in investigations and it provides safeguards for individuals who are accused of crimes.
"This is something our members feel very strongly about.
"We certainly don't believe that anything should be done that makes it easier to convict anyone of anything."
He added: "The requirement for corroboration where one piece of evidence supports another is a fundamental tenet of Scots law and one which provides safeguards for the public and for police officers."
This week the Senators of the College of Justice said removing the need for corroboration, which is unique to Scotland's legal system, would lead to "decreasing confidence in the legal system" and to lower conviction rates generally.
They also argued that the Scottish courts had on many occasions "been grateful for the requirement of corroboration, which in our view provides a major safeguard against miscarriages of justice".
In 2010, Lord Carloway was asked to lead a review of Scots law and practice in the wake of a high-profile human rights decision by the UK Supreme Court, on the Cadder case.
The Cadder ruling put an end to police being able to question suspects without the option of legal representation.
In his 400-page review, Lord Carloway said the requirement for evidence to be corroborated had lain at the heart of the criminal justice system "since time immemorial" but was based on "medieval" thinking.