SNP conference 2012: Culture secretary Fiona Hyslop makes culture pledge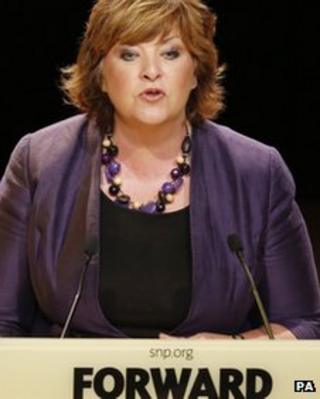 Scotland's Culture Secretary Fiona Hyslop has told the SNP conference that she has been working hard to protect the country's cultural institutions.
She said it was vital that artists were given freedom in order to flourish further.
Ms Hyslop was addressing delegates on the third day of the four-day Nationalist conference in Perth.
Her speech was due to take place at the end of the second day but had to be postponed when the Nato debate overran.
The party voted to overturn its long-held policy objecting to an independent Scotland being a member of nuclear weapons-based defence alliance Nato.
Ms Hyslop told the party faithful: "Scotland's culture is our soul - in its traditions, in its innovation, ideas, debates, disputes, its many truths and its many questions. In its democratic intellect it does not just define us, it is constantly challenging and shaping and reshaping our perspective and ideas.
"Our artists need freedom, respect and support to do so unconditionally because it is in that atmosphere we will see our culture flourish still further.
"Conference in Scotland, we are seeing world class art, writing and performance being produced. Time and time again I am told from abroad we really value culture for what it is.
"I have worked hard to protect our cultural institutions and front line grants despite cuts that are too deep and too quick from Westminster. Where the Arts Council in England has seen cuts of 30%, in Scotland we have sought to protect culture.
"We believe in public subsidy of art and artists because we believe that self-expression of the nation needs self-expression of its peoples. The experience of one of us can speak to all, and to an audience across the globe."