John Swinney urges Osborne to change direction and end austerity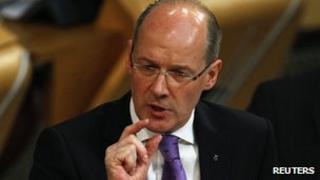 Scottish Finance Secretary John Swinney has urged the UK chancellor to use his autumn budget to change direction and end austerity.
He told the SNP conference that George Osborne should stop obsessing about cutting the deficit.
Mr Swinney also used his party address to pledge support for workers at Halls of Broxburn.
The meat processing plant in West Lothian is due to close, despite Scottish government efforts to save it.
In his speech to the party faithful in Perth, Mr Swinney said: "Today I call on George Osborne to end his obsession with austerity. Use the Autumn Budget Statement to change direction.
"It's time he listened. It's time he learned.
"And if he won't - it's time he left it to us, to Scotland - to shape a better economic future.
"Conference, using the powers we have, we are focussed on helping Scottish households and business through the recession. Unlike the UK government, we cannot - we will not - stand idly by while people are suffering."
Mr Swinney said supporting people working at Halls was his priority. He added that the government stood firmly with the community of West Lothian and would help it recover from the "body blow to their economy".
The Scottish finance minister also launched an attack on Scottish Labour leader Johann Lamont's review of universal services, like free bus travel, describing it as a "cuts commission".
He said: "We all know what Tory rule looks like - cuts, cuts and more cuts - now Labour have put their cards on the table.
"Johann Lamont has lined them up with Osborne and Cameron.
"Free personal care; education based on ability to learn not ability to pay; the NHS free at the point of need. All of it under threat.
"Even the extra 1,000 police we have put on Scotland's streets."
Mr Swinney told the conference: "Even the Tories don't go that far.
"The Labour Party has come to a pretty pass when they now sit to the right - the right - of the Tory Party."