Scottish National Food Forum to be set up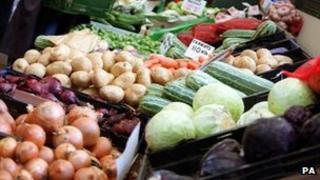 Scotland's Environment Secretary Richard Lochhead will set up a body to investigate how to improve and keep secure the country's food supply chain.
The minister announced the National Food Forum at the SNP's annual conference in Perth.
Mr Lochhead will also make available £2.5m to fund an initiative to provide better access to local produce.
He told party members it was important that "our own folk" enjoy the produce their doorsteps.
The "Think Local" plan will be a collaborative effort involving the Scottish government and Scotland's Rural College.
The three-year funded venture aims to "deliver targeted support and advice" to local food companies, networks and communities.
Mr Lochhead also told his party's conference that his new National Food Forum would be across the big issues in the food debate.
He explained: "I want to know how we can add more value to the fantastic raw materials we produce to capture the economic benefits.
"I also want the forum to look at Scotland and food security and to investigate our food supply chains.
"Recently, our dairy farmers were being forced to supply milk at a loss.
"There is something seriously wrong somewhere and I want to ensure our food supply chains are fit for purpose."
He added that the body would help ensure Scotland made the most of its ability to produce good food.
Membership and the full remit of the National Food Forum will be set out in the coming months.
It is hoped the forum will have a wide ranging membership, covering disciplines such as health and environment as well as the food and drink industry.