Scottish independence: UK foreign policy 'may be put at short-term risk'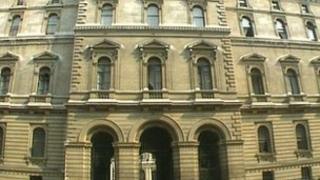 An independent Scotland could pose a "short-term risk" for enemies to exploit perceived uncertainty in UK foreign policy, it has been warned.
The Foreign and Commonwealth Office raised the prospect in a submission to the Commons Foreign Affairs Committee.
It also suggested Scots in trouble abroad could face problems through the loss of UK consular assistance.
An SNP spokesman said an independent Scotland would continue to uphold common defence and security interests.
In its submission, the FCO said independence would create "a UK land border" and "harm the Scottish economy" by withdrawing Scotland from the UK's 14,000 treaties and global network of foreign investors.
The FCO said the remainder of the UK would maintain its "strong network of alliances and relationships, and its global foreign policy role", but warned that it is "more difficult to say what the effect (of independence) on the UK's international influence would be".
"Traditional allies may seek reassurance that the UK would retain the ability to project influence and military capability in support of joint objectives and there could be a short-term risk of opponents of the UK's foreign policy seeking to exploit any uncertainty or distraction that could follow a vote in favour of separation for Scotland," the FCO stated.
The FCO submission adds that the loss of coverage from UK consular and trade and investment promotion networks would "have a significant impact on Scottish citizens travelling and working overseas".
"This could have an important impact on Scottish citizens involved in situations such as child abduction, forced marriage or criminal cases in much of the world," it added.
The FCO submission continues: "An independent Scotland would be likely to have to apply for membership of whichever international organisations, including the UN, EU, Commonwealth and Nato, it wished to join, and treaties such as the European Convention on Human Rights or other international human rights treaties to which it wished to accede."
'Co-operation continues'
The SNP is due to vote on overturning its historic opposition to Nato at its party conference on Friday, but the FCO warned that, even if its members vote to take Scotland into Nato, its entry is not guaranteed.
An SNP spokesman said: "Independence will mean that we continue to work in co-operation with other parts of the UK, our European neighbours and international partners on common defence and security interests.
"The reality is that the UK's disastrous and illegal war in Iraq - backed to the hilt by the Tories - unquestionably made the world a much less safe place."