Ex-SNP leader Gordon Wilson brands gay marriage consultation 'a fraud'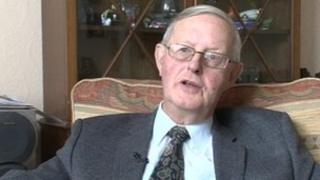 A former SNP leader has described the Scottish government's consultation on same-sex marriage as "a fraud".
Gordon Wilson was speaking at a Scotland for Marriage fringe meeting at the SNP conference in Perth.
SNP ministers backed a bill on same sex-marriage earlier this year, despite most of the responses opposing reform of the law.
A Scottish government spokeswoman said it was "committed to a Scotland that is fair and equal".
About 80,000 people responded to the government consultation, with 36% in favour of same-sex marriage and 64% against.
When responses such as postcards and petitions were excluded, that was reversed, with 65% in favour and 35% against.
'Sterile' associations
Mr Wilson, who told the BBC at the weekend the bill was "a step towards fascism", described the legislation as threatening the "essential freedoms of Western democracy".
He told the fringe meeting same-sex marriage was being used as a "steam-roller to squash people with conscience".
Mr Wilson also criticised the SNP government for supporting "associations which are sterile", arguing Scotland needs children to support its ageing population.
A Scottish government spokeswoman said: "The Scottish government is committed to a Scotland that is fair and equal and that is why we intend to proceed with plans to allow same-sex marriage and religious ceremonies for civil partnerships, a move supported by all party leaders in the Scottish Parliament.
"We are deeply committed to freedom of speech and religion and have already made clear that no religious body or celebrant will be compelled to conduct same-sex marriages.
"Our next consultation will outline the details of the protections in these areas and seek all views."