Scottish independence: Lib Dems push federal UK plans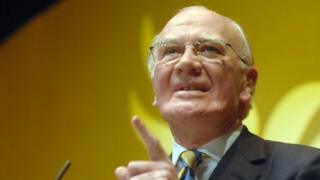 The Liberal Democrats have published their alternative to independence for Scotland.
Called "Federalism: the best future for Scotland", the report was drawn up by a commission chaired by North East Fife MP Sir Menzies Campbell.
It proposes what it calls "a strong Scotland within the United Kingdom" with control over most domestic policy issues.
A future Scottish parliament, it said, should set its own rates of income tax.
Overall, the parliament would have responsibility for the majority of its own revenue.
Speaking on BBC Radio Scotland, Sir Menzies said: "The point of principle is to find a balance between what you would get by way of an equalising grant from a central United Kingdom government, and what you should have responsibility for raising and spending yourself.
Somewhere, you have to draw the line. Our view is that two-thirds is an entirely appropriate place to do so."
Act of Union
Sir Menzies said the current devolved set-up was "unsustainable".
His commission's solution would involve the historic Act of Union between Scotland and England being scrapped and replaced by a declaration of federal union.
Defence, foreign affairs and welfare would remain with a federal UK government at Westminster.
Sir Menzies added: "Federalism is the answer to many of the anxieties which people have, in particular the anxiety people have about independence."