Scottish independence: Referendum campaigners put their arguments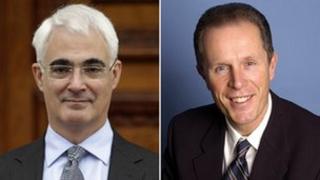 The leaders of the no and yes referendum campaigns on Scottish independence have been putting their cases ahead of the historic vote.
Alistair Darling of the Better Together unionist group said independence was "not freedom but more like serfdom".
Blair Jenkins, who heads up the Yes lobby, said he was "enormously excited" about the referendum in autumn 2014.
The comments came the day after a deal on the process of the vote was signed by the UK and Scottish governments.
Prime Minister David Cameron and First Minister Alex Salmond met at St Andrew's House in Edinburgh to agree to the memorandum of understanding laying out the ground rules.
The vote in two years time will consist of;
a single Yes/No question on Scotland leaving the UK
it will also allow 16 and 17-year-olds to take part in the ballot
and it must be held before the end of 2014
Former BBC Scotland news chief Mr Jenkins said: "How fantastic is it that we are the first generation of Scots - the only generation of Scots - to get a chance to vote on this issue and we could leave a better bequest to our children, grandchildren and future generations to come then being an independent Scotland."
He Told BBC Radio Scotland's Good Morning Scotland programme that there was a big challenge ahead for the Yes campaign given that current polling suggests people in Scotland would vote against independence.
Mr Jenkins explained: "There is already a group in the population who is firmly intending to vote yes and a group firmly intending to vote no and there is a very sizeable group, I think the largest of the three groups, who are saying we have not made up our minds, we are interested in this idea, we want to hear more, we need to be convinced.
"Now our job is very clear, we've got the evidence, we've got the arguments."
He admitted that people were not fully in tune with the debate, but conversations were beginning right across Scotland.
'Uncertain future'
Mr Jenkins said it was possible to see everyone in Scotland as "converts to independence".
But former Labour chancellor and pro-unionist Mr Darling said the arguments were stacked against Scotland becoming independent.
He told Good Morning Scotland that there were three strong elements as to why the UK should remain together - the economy, emotional and cultural ties and the influence the UK has in the world.
Mr Darling added: "If Scotland became independent it has got to have its own financial services regulatory regime. What you have now is a genuinely open, single market. You have to ask yourself why are you doing this, what is the purpose for it all?
"I think to enter into an economic union where we are giving up the influence we have got just now, when you have to enter into a fiscal pact which means that Scotland's tax and spending would have to be approved by and agreed to by the UK - that isn't freedom, that is more like serfdom."
He questioned why people in Scotland were being asked to "choose between being Scottish or British".
Mr Darling asked what was the point of Scotland "giving up" union and entering into an "uncertain future"?