Scottish independence: Referendum agreement at-a-glance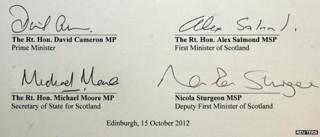 A deal setting out terms for a Scottish independence referendum has been signed by Prime Minister David Cameron and First Minister Alex Salmond.
The terms of the deal have been set out in a 13-page memorandum of agreement between the Scottish and UK governments.
Here is a look at the key points of the document:
The Scottish and UK governments agree the referendum should have a clear legal base.
It should be legislated for by the Scottish Parliament.
It should command the confidence of parliaments, governments and people.
It should deliver a fair test and a decisive expression of the views of people in Scotland and a result everyone will respect.
The governments have agreed to an "order in council" under Section 30 of the Scotland Act 1998 to allow a single question referendum on Scottish independence, to be held before the end of 2014.
The referendum should "meet the highest standards of fairness, transparency and propriety, informed by consultation and independent expert advice".
The legislation - the Referendum Bill - will set out the date, franchise (including voter age), the wording of the question and rules on campaign financing.
Role of the Electoral Management Board and subsequent role of the Electoral Commission watchdog will be reflected in the Referendum Bill.
The referendum question must be "fair, easy to understand and capable of producing a result that is accepted and commands confidence".
The Scottish government will refer the proposed referendum question to the Electoral Commission for review, before delivering a report to Holyrood on the issue.
Under the 2000 legislation, the Electoral Commission also has responsibility for registration of campaigners and regulating campaign spending and donations.
The poll and count will be managed by local returning officers and directed by a chief counting officer.
The Referendum Bill to be introduced by the Scottish government will provide for the spending limits in the "regulated period" for the independence referendum, which has been proposed at the 16 weeks ending on the date of the referendum.
The document in full
Credit: DocumentCloud