Scottish independence: Consultation views released 'this month'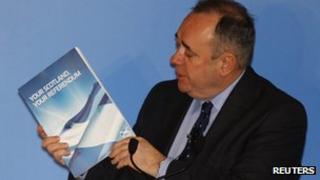 Details of the Scottish government consultation on the independence referendum will be published "later this month", ministers have said.
It comes despite a meeting between the prime minister and the first minister expected to take place on Monday.
It will finalise details for a one-question vote expected in October 2014.
The Scottish government consultation has generated more than 26,000 responses, which are being independently verified.
The process also sought views on whether the referendum should include a question on further powers for Holyrood short of independence.
Scottish Labour's Patricia Ferguson said she was pleased to hear that discussions over the referendum process would be resolved soon, "allowing the focus to move to the substantive issues of separation".
However, she added that Mr Salmond's "behind closed doors" deal with Prime Minister David Cameron had been done without reference to the Scottish government's "much hailed 20,000 responses" referendum consultation.
Ms Ferguson said: "The SNP said that they would listen to what Scots said, but after numerous delays, we still don't know what Scots said. What's happened to the consultation responses?
"It would seem that whilst pretending to listen to Scots and what they think, the SNP actually just goes off and does whatever it is they want to do anyway."
A Scottish government spokesperson said: "We will publish the analysis of the referendum consultation by the end of this month.
"The referendum consultation received over 26,000 responses, one of the highest ever received, and has been put out to independent analysis which has inevitably taken some time to complete.
"The recent same sex-marriage consultation similarly took longer than originally planned to complete due to a very large response."