Independence referendum: Deal or no deal?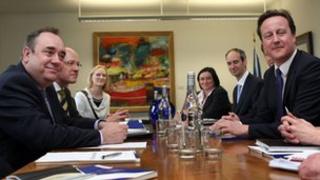 So deal or no deal? Deal. Definitely deal. But Alex Salmond is quite correct to point out that there remain a few troublesome issues with regard to the agreement over holding a referendum on Scottish independence.
Mr Salmond is a mite irked at what he sees as pre-emptive comments at the Conservative Conference in Birmingham to the effect that an agreement is absolutely and finally concluded.
But only a mite. He is inclined to attribute this phenomenon to the febrile atmosphere routinely associated with party conference - rather than any Machiavellian manoeuvring by the Tories.
'Too eager'
Indeed, the FM named names. Or, rather, name. He suggested that the Scotland Office Minister David Mundell had been rather too eager last night to proclaim an agreement.
(Mr Mundell played a prominent role in the earlier negotiations between Westminster and Holyrood before the task passed to Michael Moore and Nicola Sturgeon.)
But, to be fair, Mr Mundell's comments were reinforced and, if anything, surpassed by the prime minister today.
David Cameron said - without the scintilla of an if or the whisper of a but - that he would be signing a deal with Mr Salmond on Monday, in Edinburgh.
Still, these things - as they are no doubt sighing even now in St Andrews House. However arrived at, however announced, we may be certain that an agreement will be reached and finalised on Monday. (Or, at least, as certain as one can ever be in this life of troubles.)
The problems remaining? As billed here, the main one is the issue of campaign finance - how much each side can spend.
Expect a compromise, with external scrutiny. Other matters largely concern the wording of the Memorandum of Understanding between the two governments.
And the deal? Also as billed here, a Westminster Section 30 order to transfer the legal power to Holyrood to hold a referendum.
With two provisos: that power lapses at the end of 2014, neatly suiting Mr Salmond's timetable; and it involves a single question - yes or no to independence - thus removing any more talk from the FM or anyone else about a back-up question on enhanced devolution.
After that order is carried at Westminster by February next year at the latest, we get a Bill at Holyrood to legislate for the referendum itself. Then the prospectus - what independence might mean - to be published by the Scottish government in October 2013.
Then, one year later, October 2014, Scotland goes to the polls to determine her future.