Carbuncle Award: Hunt launched for Scotland's most dismal town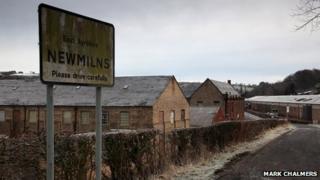 Nominations have opened for the controversial Carbuncle Awards for the Scottish town with the most dismal architectural merit.
Candidates so far include Newmilns in Ayrshire, Leslie in Fife and Broxburn in West Lothian.
Sponsors Urban Realm magazine said the towns had been chosen because they "harbour a variety of ills".
But the organisers believe there are worse towns out there and have called for more nominations.
They want residents, commuters and tourists to name and shame Scotland's most dismal places and spaces.
Plook on the Plinth
The Carbuncle Awards were created to provoke debate about the quality of development in Scotland's towns and cities.
Last year the "Plook on the plinth" award was picked up by Linwood in Renfrewshire for being the most dreary town in Scotland.
Urban Realm editor John Glenday believes the economic downturn creates the right conditions to "shine a light" on urban blackspots.
He said: "Our towns are under greater pressure than ever before, suffering continued dissipation of resources and fragmentation of once close knit communities.
"From flagging retail, to an exodus of the young and a planning and legal system that often seems perversely designed to throttle rather than nurture."
Mr Glenday added: "The Carbuncle Awards are an antidote to this insidious decline which has hit our towns since the onset of recession in 2008, acting as a doorstop for decay and a springboard for future prosperity."
Other categories include the "Zit building award", which is awarded for the worst building completed in the past year. So far nominations include Carnoustie Links Golf Club and Renfrew Street walkway in Glasgow.
And there is a category designed to give a rap over the knuckles to local planners. The "Pock mark" award is given for the worst planning decision, with only one nomination so far for Perth City Hall, which remains disused.
Proposals from Perth and Kinross Council to demolish the listed building to make way for a new civic square were rejected by Historic Scotland.
Carbuncles judges this year include planner Drew Mackie, architecture critic Mark Chalmers and Mr Glenday. The winners of the 2012/2013 "Plook" award will learn their fate in March.