Report predicts 15,000 digital jobs for Scotland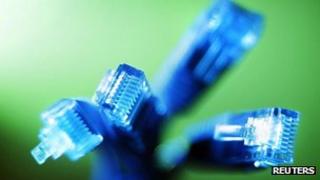 The Scottish government is predicting a growth in jobs as part of its investment in the country's broadband infrastructure.
Details of the future job opportunities are contained in a newly published document, Scotland's Digital Future.
It says that 15,000 new jobs could be created over the next 15 years.
At the heart of the strategy is a multi-million pound investment in faster, next generation broadband for business and communities.
SNP ministers hope the jobs will emerge in e-commerce, engineering, social media and research and development.
Deputy First Minister and Cabinet Secretary for Infrastructure Nicola Sturgeon said the "huge potential and massive opportunities are clear" for the digital industry.
She predicted: "In addition to creating around 800 jobs building the infrastructure over the next five years the investment in improving Scotland's digital connectivity is forecast to support around 14,000 jobs in the wider Scottish economy over the next 15 years.
"Our commitment will mean new, high quality jobs in cutting edge areas like e-commerce and digital engineering.
"Broadband, just like roads and railways, is a vital part of Scotland's infrastructure, and that is why we are committed to delivering a world class digital infrastructure to the people of Scotland by 2020."
Scottish Enterprise welcomed the possibility of thousands of new jobs within the industry. Its chief executive, Lena Wilson, believes the digital sector could create growth in the Scottish economy.
She added: "This investment in Scotland's digital infrastructure is key to maintaining our companies' global competitiveness. It also allows us to build on our existing world-class reputation for creating innovative businesses and offers an additional compelling incentive for inward investors."