Scotland's fish farming faces stricter controls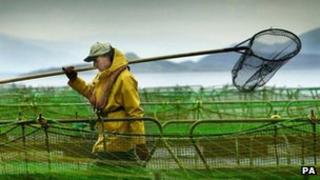 Scotland's fish farming industry could face stricter regulation through new legislation.
Holyrood's Environment Minister Paul Wheelhouse believed the Aquaculture and Fisheries Bill would support farms and protect fish stocks.
Plans include tougher sanctions on fish farmers and increased scrutiny by environment agency Sepa.
The bill will now start its passage through the Scottish Parliament and is likely to become law next year.
There have been concerns for some time that lochs and rivers were being polluted by salmon farms.
A report this year published by the Salmon and Trout Association claimed juvenile sea lice from fish farms had been found on wild salmon and sea trout.
It also stated that nearly 13% of sea-bed residue samples from fish farms were higher than the environmental standard allowed.
The Scottish government hopes the bill will ensure that both wild and farmed fish continue to be managed properly without harming fishing on the country's rivers and lochs.
The proposals include:
new legal measures for fish farm operators
increased scrutiny of the industry by Sepa inspectors
stricter regulation
and fines of up to £10,000 for non compliance
Welcoming the introduction of the bill, Mr Wheelhouse said both wild and farmed fish stocks were vital to rural communities and the wider Scottish economy.
He added: "I believe we now have a forward thinking bill which achieves a balance between supporting fish farming and freshwater fisheries to thrive, while putting in place the legislative step to ensure our precious marine environment continues to be protected."
Scotland is the key producer of farmed salmon in the EU with an estimated value of £585m.
In terms of tourism, Scottish lochs and rivers support one of the largest wild salmon populations in Europe with rod catches reaching almost 90,000 last year, the sixth highest year on record.