Scottish government's £18m parenting strategy launched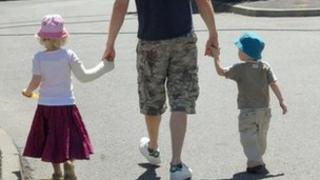 Scotland's first national parenting strategy promises to provide better access to childcare, fostering and family counselling.
The new approach by the Scottish government will see £18m ploughed into advice and support services.
Children and Young People's Minister Aileen Campbell said it was vital to provide parents with early enough help to "avoid a crisis".
However, Labour dubbed the plans "another jam tomorrow" strategy.
The plan includes:
£18m for information, advice and support services
More 'dad friendly' services
Reviewing the delivery of foster and kinship care
Promoting family friendly workplaces
Increasing early learning and childcare to a minimum of 600 hours per year for 3 and 4 year olds and looked after 2 year olds
And additional support for families with relationship difficulties
Speaking on the launch of the strategy Ms Campbell said: "Parents told us they want to know where to go if they need help and to be sure they can get support early enough to avoid a crisis.
"That's why we are investing £18m to make it easier for parents to get help in their local area."
Ms Campbell pointed to other strands of the strategy, including extending the family nurse partnership and offering parents the services of a dedicated health visitor.
'Families waiting'
Clare Simpson, project manager for Parenting Across Scotland, has welcomed the plan for parents.
She said: "This strategy is the aspiration to make Scotland the best place in the world to bring up children.
"It is a joint document, made up of the views of the government, organisations that work with families and parents themselves. Now, we all need to act together to make sure it becomes a reality".
However, Scottish Labour's Neil Bibby said the SNP government could introduce extended childcare now.
He added: "But instead Scots parents will wait even longer for that to become a reality - despite it being promised in 2007. They promised to sort out 'kinship' care in 2007 as well. Families are still waiting for action."