Public transport 'Scottish Oyster Card' announced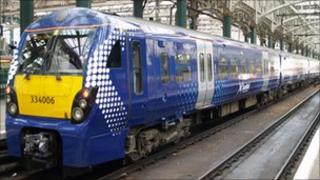 Plans have been revealed for a Scotland-wide travel smart card which can be used across public transport networks.
The Scottish government has backed the plan for what it calls a "Saltire Card".
It will work in a similar way to the Oyster Card system in London, and will be used on trains, buses, ferries, subway and trams.
Backers of the scheme have claimed it could make travel easier and cheaper.
The government and Transport Scotland have started work with operators, local authorities and regional transport partnerships on a number of demonstrator projects.
Pilot schemes in local areas are to be announced soon.
Deputy First Minister Nicola Sturgeon said: "The Saltire Card will be a hugely exciting development for transport in Scotland and will help us achieve a truly world-class public transport network.
"It will make it easier, more attractive and possibly cheaper for people to get around using public transport and will help further connect our cities."
One million cardholders
The Scotland-wide concessionary travel scheme for bus journeys already uses 7,000 smart-enabled ticket machines.
The government has said it is the biggest bus smart ticketing scheme outwith London, used by more than one million cardholders making 164 million journeys each year.
Ms Sturgeon added: "While we are aware that there is still some substantial work to do on this proposal, we are now taking the first steps towards achieving this vision by launching a series of demonstrator schemes with a number of operators and public sector partners throughout the country."
The announcement was welcomed by sustainable transport lobbyists Transform Scotland.
Public Transport campaigner Calum McCallum said: "Commencing with a pre-paid ticket is a reasonable first step.
"However, we'll be keen to see the Saltire Card expand to incorporate season tickets.
"And a key first step will be a day-ticket for all public transport in Glasgow in time for the Commonwealth Games."