Scottish independence: Women encouraged to vote yes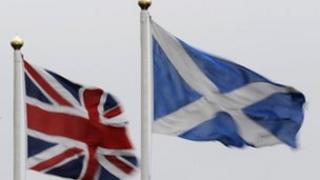 A campaign to encourage women to vote for independence in the forthcoming referendum is being launched.
Jeane Freeman, who was a key member of Jack McConnell's team when he was Labour first minister, is supporting the Women for Independence campaign.
Ms Freeman said women should be "front and central" in the debate about Scotland's future.
The Scottish government is currently negotiating the ground rules for the ballot which it wants in autumn 2014.
It has said it would prefer a straight "yes" or "no" question but is open-minded on a second question focused on more powers for Scotland.
Women for Independence wants to appeal to females of all backgrounds and ages, including those who are members of political parties and those who are not.
The new group also has the backing of former Scottish Socialist Party MSPs Rosie Kane and Carolyn Leckie, as well as children's author Lari Don.
It will work alongside the official Yes Scotland campaign, which has been set up to encourage people to vote in favour of independence in the planned referendum.
Women's hopes
Speaking ahead of the launch, Ms Freeman said: "I want women to be front and central in this debate.
"I want to hear what women up and down the country have to say and to hear their worries and their hopes.
"And I want to play my part in persuading other women, that not only is an independent Scotland possible, but that it's our best opportunity to realise our hopes and dreams for our families and communities."
Ms Leckie, a founding member of the group, said: "I love that we intend to reach out to all women - stretching over pre-existing boundaries of parties, geography, social group, identities.
"What we are doing is unique, creating a network for women, by women which will make space for women who don't necessarily engage with political processes other than to vote, to make their voices heard and their views known."
The group has the backing of SNP depute leader Nicola Sturgeon.
She said: "It is vital that women's voices are heard loudly and clearly in the independence debate."
Former UK Chancellor Alistair Darling launched a bid in June to keep the union, stating Scotland could have the "best of both of both worlds" with a strong parliament at Holyrood and a secure place in the United Kingdom.
Through the Better Together campaign, which involves Labour, the Liberal Democrats and the Conservatives, Mr Darling said Scotland was stronger in the UK.
Scottish Labour said the launch highlighted the questions Alex Salmond and Nicola Sturgeon "can't or won't answer''.
Patricia Ferguson MSP said: "Women want to know what a separate Scotland would look like. They need to know that there would be college places for their children and high quality care for older people and they deserve to know if there will be jobs for them and their families.
"These are the issues that women I talk to are raising."