Scottish independence: Devo Plus publishes social powers blueprint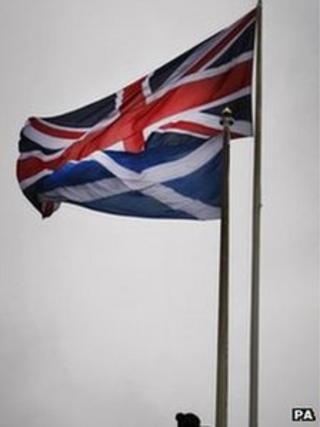 A report by a group campaigning for an alternative to Scottish independence said more powers were essential to tackle social deprivation.
Devo Plus has focused on the benefits of additional financial powers for Holyrood in its second report.
The group hopes its "blueprint" will be adopted by pro-Union parties in the event of a no vote in the referendum.
The Scottish government is currently negotiating the ground rules for the ballot which it wants in autumn 2014.
It said it preferred a straight "yes" or "no" question but was open minded on a second questioned focused on more powers for Scotland.
Head of the Devo Plus campaign, former Liberal Democrat MSP Jeremy Purvis, said he hoped he could bring all the anti-independence parties together to offer the Scottish people an alternative to outright independence.
The group defines "devo plus" as Holyrood being accountable for raising what it spends.
Income tax, corporation tax and Scotland's geographic share would be among the new powers transferred, but Westminster would retain control over National Insurance and VAT.
Mr Purvis said: "As part of discussions with party leaders, we have been presenting the case to them that they can have confidence that there is a lot of work being done, that there is a worked-up set of proposals that are deliverable.
"As the party leaders go through their own party procedures, I would like to think we have presented the strongest case where they can coalesce around."
The group's report into the benefits of devo plus focuses on;
sixteen key social indicators since 1999
assessing the fairness of the income tax profile in Scotland
and recommending how welfare could be devolved in the future.
Mr Purvis said: "It is sobering to see that for many social outcomes we are performing worse than in 1999.
"In the vast majority of these areas the policy issues are completely devolved so an argument on independence is not relevant. Rather, it is important to consider how we secure better delivery."
The SNP said it remained sceptical that the pro-Union parties would bring forward any more powers for Holyrood.
Nationalist MSP Kenny Gibson said the "promise of more powers in return for a 'no' vote cannot be guaranteed".
Commenting on the report by the Devo Plus group, a Scottish government spokeswoman said: "Devolution has been excellent for Scotland, but we agree more financial levers are needed, and the full economic tools an independent Scotland will have at its disposal will make the country even more successful.
"Scotland currently produces 9.6% of the UK's wealth with just 8.4% of the population, meaning an independent country will be more than able to pay its way, and will also be able to protect and build on important policies already achieved with devolution, such as free university education".