Scottish independence: 'Substantial' progress on ballot rules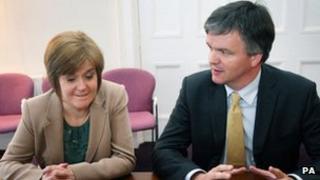 The key figures in the Scottish independence referendum talks say "substantial" progress has been made on agreeing ground rules for the ballot.
Deputy First Minister Nicola Sturgeon and Scottish Secretary Michael Moore made their joint statement after a third meeting.
They said officials had been asked to put together a proposed package to be discussed further.
The pair added that individual issues now needed to be see in "totality".
Ms Sturgeon and Mr Moore's statement said: "We have asked officials to put together a package over the next few days.
"We will discuss again whether the proposed package has reached a form we are able to recommend the full agreement to the first minister and the prime minister."
Some of the issues under discussion have included whether there should be a single-question ballot paper and whether 16 and 17-year-olds should be allowed to vote.
Mr Moore left the Liberal Democrats' Brighton conference to meet Ms Sturgeon in Edinburgh.
He said ahead of the meeting that his main focus was agreeing a deal over the referendum rules, but he added he would not create "false pressures" by naming a date.
But in evidence last week to MPs on the Scottish Affairs Committee, Mr Moore said he hoped a deal could be done by 22 October.
The Scottish government announced at the beginning of this year that it wanted to hold a referendum in autumn 2014.
It is understood the UK government wants a deal as soon as possible.
The Scottish government is also said to be keen to agree the ground rules sooner rather than later, but it wanted all the important issues ironed out first.
Mr Moore will be returning to his party's conference on Tuesday, when he is expected to tell delegates what progress has been made in the talks.