Scottish independence: Judge sets court date for EU legal advice row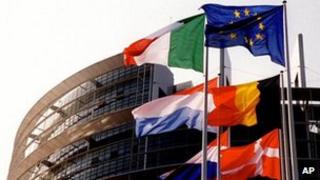 A judge will fast track a case which will decide whether the Scottish government must reveal if it has advice on an independent Scotland's EU status.
At the Court of Session, Lord Menzies approved a motion from the information commissioner, Rosemary Agnew.
The case will be heard on 18 and 19 December.
First Minister Alex Salmond had refused to answer a freedom of information request on the subject, saying to do so would break ministerial code rules.
James Mure QC, for the commissioner, told Lord Menzies during a brief hearing on Thursday morning that a motion for urgent disposal of the case had not been opposed.
The December court case will be before three judges, with both parties lodging notes or argument and legal authorities in advance.
Lord Menzies said: "I shall approve this matter as suitable for urgent disposal."
SNP leader Mr Salmond said a detailed assessment of an independent Scotland in Europe would be made in a white paper ahead of the independence referendum, which he wants to hold in autumn 2014.
The legal advice issue came to the surface last year when a freedom of information request was made asking the Scottish government to publish any legal information it had on the EU and an independent Scotland.
In July this year, the government went to court to appeal against the request.
At the beginning of this week, the information commissioner said she was going to court to request that the government appeal be heard as a matter of urgency.
Unionist parties said the Europe question needed to be clarified now because it was their long-held view that an independent Scotland would not become an automatic member of the EU and would have to apply as a new state.