Scottish independence: 'Good discussion' between Salmond and Cameron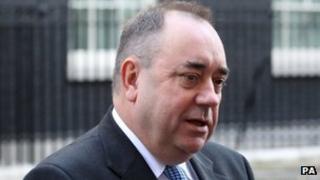 Scotland's first minister said he had a "good discussion" with Prime Minister David Cameron about the planned referendum on Scottish independence.
Alex Salmond said there was "goodwill" towards having the referendum format settled in "the next few weeks".
However, the Work and Pensions Minister has sparked anger from Mr Salmond after claiming an independent Scotland could not finance its welfare system.
Mr Salmond said Iain Duncan Smith's words were "offensive and nonsensical".
The Tory minister, who was in Glasgow for the Welfare to Work Scotland conference, said services would have to be cut and taxes raised.
Mr Salmond, who wants to hold the vote in autumn 2014, has warned that a referendum deal could still be blown off course.
The first minister was speaking after a regular meeting between ministers from the devolved administrations and the UK government.
Mr Cameron hosted the Joint Ministerial Committee in London in which the economy and aviation policy were on the agenda.
During the get-together, Mr Salmond called for Westminster to allow infrastructure projects worth £400m to go ahead now as a means of stimulating the Scottish economy.
The first minister also raised the issue of air links to Scotland and devolving air passenger duty.
Mr Salmond said: "As the Scottish budget will outline tomorrow, we are aggressively targeting actions, within the constraints imposed on us, to stimulate the Scottish economy through capital investment to inject the biggest possible stimulus into the economy to boost jobs.
"In June this government announced our plans for a £105m package of economic stimulus which will maximise opportunities to create jobs and growth. We recognise that action around investment is required now - not in three years time.
"That is why I have again urged the chancellor to perform another budget u-turn by announcing an extra £5bn in capital investment, which would allow us to provide an additional stimulus of more than £400m to support employment in Scotland now."
He added that in March the prime minister had asked the Scottish government to provide a list of projects which were shovel-ready. Mr Salmond stated: "Despite providing the list, and repeated requests, no funding has yet been provided for these."
Meanwhile, Deputy First Minister Nicola Sturgeon and Scottish Secretary Michael Moore have held more referendum talks.
After the talks Ms Sturgeon said she was ''very optimistic'' that the details over the timing and questions on the ballot paper could be resolved soon.
The two sides will hold further talks next week.