Commissioner warns freedom of information rights 'erosion'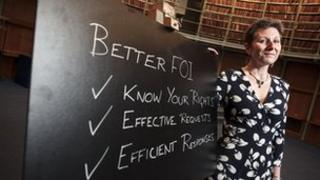 The erosion of rights to freedom of information is not acceptable and must be investigated immediately, according to Scotland's Information Commissioner.
Rosemary Agnew raised her concerns as she published her first annual report.
She said the use of "arms length" bodies to provide public services was leading to a "loss of rights".
A Scottish government spokesperson said the system would be improved thanks to a Freedom of Information bill going through parliament.
In her report, the commissioner also repeated her criticism of plans to give the royal family absolute exemption from freedom of information requests.
Ms Agnew was formally appointed the new Scottish Information Commissioner earlier this year.
The role was created under the Freedom of Information (Scotland) Act 2002 with the commissioner responsible for enforcing and promoting Scotland's FOI legislation.
Her annual report showed appeals for information rose by 24% in the past year, with 77% made by members of the public.
Ms Agnew said: "The current economic situation is leading to an increase in freedom of information requests to authorities, as people naturally want to understand the reasons behind decisions that affect them.
"At the same time authorities are finding themselves with fewer resources to respond.
"My priority as commissioner is to help the public make better-targeted, more effective requests while also developing resources to support public authorities in responding to those requests faster and more efficiently."
She added: "However, an ever-growing concern is the loss of rights occurring through the delivery of public services by arms-length organisations and third parties.
"FOI was introduced for a reason: to ensure that the delivery of public services and the spending of public money is transparent, open and accountable.
"It is simply not acceptable that citizens' rights continue to be eroded through complex changes in the delivery of services. This must be looked at as an immediate priority."
Public interest
The media accounted for 12% of the appeals for information, 6% were from commercial organisations and 2% from the voluntary sector.
At 45%, most appeals to the commissioner related to information held by local government, while there was a 13% increase in appeals relating to Scottish ministers and the Scottish Parliament.
Ms Agnew also used the launch of her annual report to again state her opposition to plans by the Scottish government to keep any communication between ministers and the royal family secret.
She said giving the royal family absolute exemption from the Freedom of Information Act would be in direct conflict with the public interest.
Ms Agnew made this point when she appeared before Holyrood's Finance Committee last week.
Ministers are currently considering changes to the Freedom of Information (Scotland) Bill.
Responding to the report, a Scottish Government spokesperson said: "It is for individual Scottish public authorities to develop their own approach to handling FOI requests, in accordance with the FOI Act and it is a matter for the commissioner to judge how they are dealing with FOI requests.
"However, as with any process, there is always room for improvement and the Scottish government will be happy to work with the commissioner to share good practice and make improvements where possible.
"On the subject of extending coverage to other organisations, the Scottish government has been clear that, after we have completed parliamentary scrutiny of the current bill, we want to consider the issue of extension of coverage and have an open discussion to inform any future decisions."