Approval of new drugs 'overly complex', MSPs told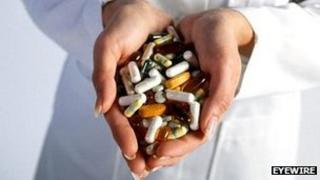 MSPs have been hearing about the apparent postcode lottery on the prescribing of new drugs.
Holyrood's health committee was told that across Scotland on average a third of requests for new medicines were rejected.
Doctors and politicians criticised the process branding it "overly complex".
However, the Scottish government rejected the postcode lottery claim, saying patients were treated on a case by case basis.
The committee heard from representatives of the Scottish Medicines Consortium, clinicians and drug companies.
Labour committee member, Dr Richard Simpson said he was concerned about the disparate nature of prescribing, with 14 different bodies making different decisions.
He questioned the inconsistency across Scotland by saying: "If you have your heart attack in the west of the country, you will get access to a new drug, if it's in the east, you won't or vice versa, consistency is lacking in the system."
Under the current rules, the Scottish Medicines Consortium approves a new medicine and individual doctors and clinicians make the decision on prescribing.
Sandra Auld, of the Association of the British Pharmaceutical Industry, pointed to recent research from the office of health economics which demonstrated the uptake of new medicines in Scotland was lower compared to the rest of the UK.
The SNP's Richard Lyle praised the work of clinicians but challenged them to cut the "red ribbon" of bureaucracy which currently means some patients can access a new treatment and some cannot.
Melinda Cuthbert, who is lead pharmacist with NHS Lothian, told the committee that a newer medicine was not necessarily a "better medicine" and she added that risk factors had to be weighed against the potential benefits.
'Lack of clarity'
Professor Angela Timoney, chair of the Scottish Medicines Consortium, said that "current guidance requires health boards to consider the advice on medicines that the Consortium deem to be value for money and make that product or its therapeutic equivalent available".
She added that this satisfied her that the system at NHS board level was working.
The Scottish Conservatives said it wanted an end to postcode prescribing and believed the solution was a Cancer Drugs Fund, which would help those patients whose medication cannot be accessed on the NHS.
However, the SNP government claim the current system was a cancer drug fund "in all but name".
A Scottish government spokesman disputed the claim of "inconsistency" across Scotland saying: "This is not a 'lottery' - these arrangements provide an opportunity for NHS boards to consider the needs of individual patients on a case by case basis, based on their expert clinical opinion."