Scottish Labour's Colin Smyth to step down as general secretary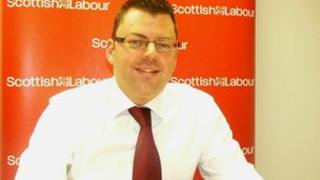 The general secretary of the Scottish Labour Party is to step down from his post, it has been confirmed.
Colin Smyth, who had held the position for four years, will officially go at the Labour Party conference due to take place in October.
He took over from Lesley Quinn who had been general secretary of the party for 11 years.
The Dumfries and Galloway councillor said he wanted to "take on new challenges".
He is going just over a year after a shake-up of party structure was agreed and nearly 10 months after Johann Lamont took over as leader of Scottish Labour.
In a statement Mr Smyth said: "There have been many highs in my time with the party, including helping deliver by-election and general election victories, and the recent local elections has shown that Scottish Labour is beginning the fightback after the disappointment of the last Scottish Parliamentary elections.
"I fully support Johann in the task of rebuilding the Scottish Labour Party and will serve that cause in any way I am asked to. I wish her and all my colleagues well.
"This may be the end of my time as general secretary but it is not the end of my commitment to the Scottish Labour Party."
Ms Lamont said Mr Smyth would be missed at John Smith House, the party headquarters in Glasgow.
She added: "He has served the party well and I am delighted that he will continue to serve the party as a councillor in Dumfries and, I am sure, in any other role the party calls upon him to fulfil in the future."
Labour refused to comment on reports at the weekend of a rift between party groupings at Holyrood and Glasgow.