Scottish independence: Court hearing over government's EU legal advice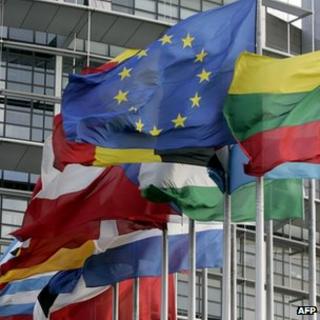 A court hearing will take place this week over the Scottish government's refusal to reveal advice on the status of an independent Scotland in Europe.
Scotland's Information Commissioner Rosemary Agnew has asked the Court of Session for an urgent hearing.
Under Freedom of Information laws, she wants the government to say whether it has received any legal advice.
However, First Minister Alex Salmond said to reveal the information would be breaking the ministerial code.
The SNP leader added that a detailed assessment of an independent Scotland in Europe would be made in the 2013 white paper on the referendum.
This was decision 111/2012, in which the Commissioner required the Scottish Ministers to either confirm or deny whether the legal advice in question was held.
Mr Salmond's government wants to hold the vote in autumn 2014.
The legal advice issue came to the surface last year when a Freedom of Information request was made asking the Scottish government to publish any legal information it had on the EU and an independent Scotland.
In July this year, the government went to court to appeal against the request. The latest twist will see information commissioner Ms Agnew going to court on Thursday to request that the government appeal be heard as a matter of urgency.
Unionist parties said the Europe question needed to be clarified now because it was their long-held view that an independent Scotland would not become an automatic member of the EU and would have to apply as a new state.
At First Minister's Questions at Holyrood last week, Scottish Labour leader Johann Lamont said Ms Agnew had "ruled it is in the public interest to know what information has been taken into account in developing policy in such a significant issue".
She added that Mr Salmond had so far failed to provide "a single shred of evidence" on the subject.
White paper
Ms Lamont went on to ask him: "Surely the first minister believes it is in the public's interests to know the consequences of voting for independence?"
The SNP has asserted that the status of Scotland in the EU would not change post-independence.
On the legal advice, the first minister believes his hands are tied.
Mr Salmond told BBC Scotland: "The ministerial code tells me I cannot reveal either legal advice, or even whether you have taken legal advice, without the consent of the law officer."
He went on to say that if he were to act he would be in breach of the ministerial code which all Scottish governments and all UK governments had to abide by.
Mr Salmond added: "However, we can solve this issue because people have the right to know, and this is why I have given the absolute guarantee and publish the white paper a year before the referendum, that will be fully consistent and formed by the legal advice at that time."