Scottish government fund bids to encourage more female scientists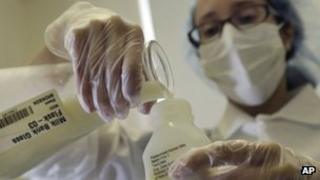 First Minister Alex Salmond has announced a new £250,000 fund to boost the number of women choosing science and engineering as a career.
The Careerwise Scotland initiative aims to encourage girls to widen their future career choices by choosing the right subjects at school.
Mr Salmond also said he wanted his government to work with employers to create a more equal workforce.
But critics said the fund alone would not tackle male dominated work places.
Addressing Scotland's first women's employment summit on Wednesday, Mr Salmond said he wanted to address gender inequality in sectors like manufacturing, science and engineering.
He told the conference, which was jointly organised with the Scottish Trades Union Congress and held at Edinburgh's Our Dynamic Earth in Edinburgh: "It is vitally important that, from an early age, girls make the right subject choices at school to allow them to progress through education and training toward the widest range of job opportunities possible."
Sharing the platform with Mr Salmond was Youth Employment Minister Angela Constance.
She told the 150 delegates gathered that if a change in culture was to succeed, flexible early learning and childcare would play a key part.
Ms Constance said: "The perception that some jobs 'just aren't for women' must also be overcome if we are to create a level playing field for all. We want to hear about the real life experiences of women, both around the difficulties they've faced and the successes they've had."
She said she was keen to work with employers, public sector bodies and the trade unions to identify the obstacles still facing many women.
Commenting on the announcement of the fund, Scottish Liberal Democrat MSP Alison McInnes said she was disappointed the government was not doing more to work with employers and encourage flexible working hours, or to address male-dominated work cultures.
'Jobs for boys'
Ms McInnes claimed that although more girls were following typically male dominated career paths, the real barriers came when they tried to step into the world of work.
She added: "Only this month entrepreneur and Dragon Hilary Devey highlighted the problems faced by women trying to make it to the top of the career ladder.
"If the Scottish government is serious about opening up career opportunities for girls it should be engaging with women across Scotland and creating an action plan which tackles the real barriers faced by women in the workplace. It's time that work works for women."
A study by the Girlguiding Association in May this year found that certain careers - such as engineering - were being dismissed as "jobs for boys".
About one in six girls said they were put off an engineering career, because they did not know of many women who worked in the industry. The study added that young women "often conform to conventional - even stereotypical - career preferences".
Recently the Scottish government's Science and Engineering Advisory Group highlighted the need to support women into careers in the traditionally male dominated industries.