Electoral Commission says May's 2012 council election 'well run'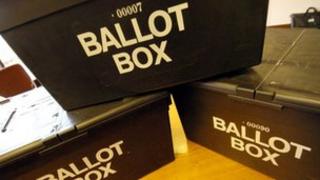 An independent watchdog has concluded that Scotland's local authority elections in May were well run.
The Electoral Commission report revealed that 89% of voters were confident that the local government vote was managed well.
That contrasted with the previous local election in 2007 which was marred by delays and an increase in the number of invalid ballot papers.
The next Scottish election will be for the European Parliament in 2014.
In the autumn of that year there is likely to be a Scottish independence referendum.
The Electoral Management Board (EMB) for Scotland was given the role of co-ordinating the administration of the elections for 2012.
The report found that the work undertaken by the board led to improvements for voters, with all returning officers meeting the commission's standards for well-run polls.
A total of 98% of people who voted at a polling station said they were very or fairly satisfied with the process, while 97% of postal voters were very or fairly satisfied.
John McCormick, Electoral Commissioner for Scotland, said: "Our focus is on voters, so I am pleased that they were satisfied with their experience of voting at these elections. This is testimony to the hard work of election staff across Scotland.
"We have come a long way since the problems of the 2007 council elections but it would be a mistake to think that we can rest now.
"There will be a European Parliament election in 2014 and potentially a referendum to decide the future of Scotland.
"The EMB will need to act now to set in place the structures and resources they will need to co-ordinate these polls and to ensure they are run to the standards that voters expect."
'Help voters'
The report found that most voters were confident completing the ballot paper, with 92% saying it was easy to complete and only 4% saying it was difficult.
There were fewer rejected ballots at this election - 1.71% of votes cast as opposed to 1.83% of votes cast in 2007.
Mr McCormick said: "While it is good to see fewer rejected votes, there are still too many.
"We need to look at the information that people receive on their doorsteps, in the polling station or through our public awareness campaigns, and see whether any changes can be made to help voters."