Nicola Sturgeon says SNP's package of bills to 'focus on growth'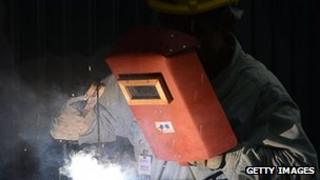 Scotland's deputy first minister has insisted Holyrood's programme of bills has been focused on economic growth and creating jobs.
But Nicola Sturgeon said that to do more, Scottish independence was needed.
Labour's Kezia Dugdale and the Tories' Alex Johnstone believed the SNP had the power it needed to kick-start the economy and deal with poverty.
The politicians were speaking the day after the Scottish government announced 15 new bills for the 2012/13 session.
Ms Sturgeon said her party had a clear objective to create jobs.
She explained: "The Scottish government and the SNP want to see the economy growing - I don't want to see the kind of welfare cuts we are currently seeing from Westminster to penalise the poorest people in our society.
"That is one of the reasons why I want the Scottish Parliament to be independent so that we have power of decision over things like welfare."
The independence referendum bill is one of the key legislative plans for the forthcoming parliamentary session.
Among the 14 other bills being put forward is the Marriage and Civil Partnership Bill, which could introduce same-sex marriage to Scotland.
Labour's Kezia Dugdale welcomed the move on the controversial marriage issue, saying Ms Sturgeon had shown "real leadership".
She also welcomed the extension of free pre-school care for all three and four-year-olds and cared for two-year-olds.
But she added: "I would like to see a focus on two-year-olds from vulnerable families, from low-income families. We have got to make sure that policies work for the families that need them most in these difficult times."
Ms Dugdale went on: "I want a strong Scottish Parliament and the Scottish government in particular have secured powers they could use to address it [poverty] and they are choosing to ignore it because it is convenient for them to suggest that the Scottish Parliament has no powers to address poverty so they can keep battling for independence."
Tory MSP Alex Johnstone said he too welcomed the childcare bill.
He went on to defend the cuts in welfare being made by Westminster and which will affect people UK-wide.
Mr Johnstone told BBC radio Scotland's Good Morning Scotland programme: "The fact is the welfare changes that are being made across the UK will benefit Scotland. They will help get more people back to work, they will ensure the cost of benefit in the long term will be less."
He added that the "best form of welfare is a job" and that was why the Scottish government needed to do all it could to "get Scotland back to work".