Scottish Tory leader Ruth Davidson backs Lib Dem Michael Moore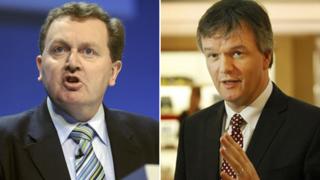 The Scottish secretary and his deputy are doing a good job, the leader of the Scottish Tory Party has said.
Ruth Davidson was responding to rumours that Prime Minister David Cameron would carry out a Cabinet reshuffle soon.
Lib Dem MP Michael Moore is Scottish secretary and Tory MP David Mundell is his deputy.
Ms Davidson said there was no need for change, particularly at a time when negotiations were ongoing over an independence referendum.
As the new term begins at both Holyrood and Westminster, attention has turned to the state of the UK Cabinet.
In an interview with Gary Robertson on BBC Radio Scotland's Good Morning Scotland programme, Ms Davidson said it was not unusual for a government of two years to look at a reshuffle.
She added that there were a lot of "high quality" individuals who were voted in to Westminster in 2010 and she expected some of them to move into the "lower reaches" of government.
However, Ms Davidson said she did not believe it was the time to make changes at the Scotland Office.
In response to being asked whether Scottish Secretary Mr Moore was doing a good job, she said: "I think so, and I think the Scotland Office has been doing a good job and I think at the moment there are negotiations going on between the junior minister in the Scotland Office, David Mundell, and the business member of the SNP, Bruce Crawford, on getting the timetable up and running for negotiations for a referendum.
"These are terribly delicate negotiations and I want to see them go well and I'm not sure that shaking up the Scotland Office right now would be in the best interests of these negotiations."
Ms Davidson made clear that she had no "special insight" into the personnel decisions Mr Cameron might make, adding "I haven't asked, and I haven't been consulted".