CND group urges SNP not to make Nato U-turn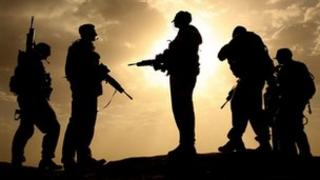 Opponents of the SNP leadership's plans to reverse the party's long-standing opposition to Nato membership have met in Glasgow.
SNP defence spokesman Angus Robertson has said an independent Scotland could be opposed to nuclear weapons but remain in the military alliance.
The party's CND group hosted a seminar to "educate" nationalists about what the U-turn in policy could mean.
The issue is due to be debated at the party's conference in October.
The SNP, which has a strong anti-nuclear stance, has opposed being part of Nato for more than 30 years but it is understood the party's leadership, including First Minister Alex Salmond, has been considering swinging behind Nato in the event of Scottish independence.
Gareth Finn, SNP CND group convener, said: "The main aim is to educate SNP members about what membership of Nato would look like. I'd like to think they're all anti-nuclear but when it comes to Nato, there's a small number of people that seek to change policy."
While Mr Finn sees Nato as a nuclear alliance, the SNP leadership has argued that an independent Scotland could join on condition that no nuclear weapons are allowed in the country.
They say that would mean the UK's Trident nuclear deterrent would then be removed from the Clyde.
Mr Finn has pointed to the experience of Germany, Belgium and the Netherlands, all Nato countries which host US nuclear weapons but are having to argue for their removal.
The meeting in Glasgow was attended by some MSPs opposed to the proposed change of direction, including backbencher Sandra White.
She told BBC Scotland: "The SNP is looking forward to a caring future independent Scotland and I don't believe Nato has any part, or we have any part to belong to Nato in that.
"I'm also very concerned about the first strike policy of Nato, and one of the most concerning issues is that we have Trident on our shores and I really think it is very naive to think if we are a member of Nato they will allow us to remove Trident."
An SNP spokesman said: "The SNP has a cast-iron commitment to rid Scotland of nuclear weapons.
"SNP members have the democratic opportunity to make their views on Nato membership clear at the annual conference in October, where we are going to have an excellent debate on defence policy, including reaffirming the party's strong anti-nuclear stance.
"The factual position is that Nato doesn't decide where nuclear weapons are based. Weapons from one country that are stationed in another are only there by bilateral, mutual agreement."