Scottish independence: Voting age could be lowered for referendum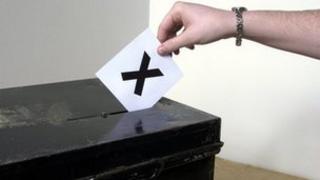 Downing Street confirmed that the UK government was discussing plans to give 16 and 17-year-olds in Scotland a vote in an independence referendum.
It had previously been understood that Westminster was not keen on the change.
Scotland's SNP government outlined in its consultation on the referendum that it wanted 16 and 17-year-olds to vote.
The official spokesman of Prime Minister David Cameron said it was hoped First Minister Alex Salmond would take part in talks about the plans.
The spokesman explained: "What we need to do is to have those discussions as soon as possible. The next step is for the first minister and the Scottish Secretary, Michael Moore, to meet so they can have those discussions. We have not taken any decision."
He added that the government was not considering giving the vote to 16 and 17 year-olds in UK general elections and he denied that making the change for the referendum established a precedent.
The spokesman said: "You are doing two different things. One is a referendum about the independence of a nation, which is irreversible. The other is the election that decides the government for the next four to five years. It is quite a big decision - independence is irreversible.
"We are talking about separating Scotland from the rest of the United Kingdom. It is a significant decision."
When the Scottish government launched its consultation in January it said the referendum, which it wants to hold in autumn 2014, should have an electorate comprising people who are 16 and over.
The document stated: "In line with international best practice, the franchise for the referendum on Scotland's constitutional future will reflect residency in Scotland. Eligibility to vote will be the same as for Scottish Parliament and local government elections and for the 1997 referendum on devolution.
"The Scottish government also proposes to extend the franchise to include those 16 and 17-year-olds who are on the electoral register on the day of the poll."
The government said that in responses to its consultation, there appeared to be support for the voting age to be lowered.
A spokesperson for the Holyrood administration said matters such as who could vote in a referendum would be "carefully and properly considered, which is exactly what the Scottish government are doing in our consultation".
In its consultation on the referendum, the UK government had said the existing rules around voting should be the same as that for a Scottish Parliament election.
It added in the document that it would be possible to change the rules but it "could lead to administrative complications and risk the perception that changes were being made to favour one or other outcome".