MSP launches Living Wage Bill to help low-paid contract workers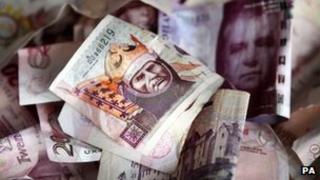 A Labour MSP is trying to change the law to force private companies who work for public organisations to pay their staff a so called "living wage."
John Park said the change would help hundreds of thousands of families.
Staff who work directly for the Scottish government have been paid a living wage of at least £7.20 a hour since last year.
Mr Park wants that guarantee to be extended to those who work for private firms contracted to the government.
The MSP for Mid Scotland and Fife, who is launching a consultaion on his Living Wage (Scotland) Bill, said he has the backing of trade unions and child poverty campaigners.
He said more than £9bn is spent annually by the public sector in Scotland procuring goods and services from the private sector, however, in 2011, 28% of private sector employees were paid less than £7.20 an hour.
Mr Park said: "Six out of 10 Scots children live in families suffering from in-work poverty.
"We have seen a commitment from a range of public sector bodies to pay their employees the lliving wage but I believe we must go further.
"I believe that if we do not take action on this issue then we are letting down thousands of low-paid, hard-working Scots."
But there is a question over whether it is legal to force a living wage as a condition of any public contracts.
Ministers have been advised it would breach European Union law. However, Mr Park said he has legal advice which says it would not.
The consultation on his proposals is due to run until December.