Scottish independence: Clash over non-Scots donations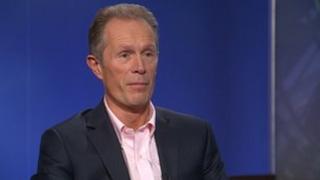 The head of the official campaign for Scottish independence has challenged the pro-Union camp over their acceptance of donations from people living outside Scotland.
Blair Jenkins was named chief executive of the Yes Scotland campaign last week.
He said the campaign would not accept donations of more than £500 from anyone not registered to vote in Scotland.
The pro-Union Better Together campaign said it would "absolutely" accept donations from elsewhere in the UK.
The launch of Yes Scotland was largely funded by £1m donations that were made to the SNP - which is playing a leading role in the campaign - from the late Scottish poet Edwin Morgan and Euromillions lottery winners Chris and Colin Weir.
But Mr Jenkins, a former head of news at BBC Scotland, said he was "absolutely determined" the vast majority of money spent by Yes Scotland would be raised directly by the campaign itself, and that it would be self-financed ahead of the referendum in 2014.
Donation rules
He told the BBC's Sunday Politics Scotland programme: "There is evidence to suggest that most people in Scotland do feel quite strongly that the referendum campaign should be determined by the people who live in Scotland and who are going to make this decision.
"So what we said was we will not accept donations above £500 from anyone who was not a voter, who is not on the electoral register in Scotland, and I think that is a very important thing in terms of making sure that it is the people who are taking the decision in Scotland who are contributing to the campaign.
"I hope the No campaign will be as transparent about their funding, and who is backing them, as we intend to be."
His comments came after the SNP repeated its call for the anti-independence campaign to agree to voluntary donation rules ahead of the referendum.
The party released details of a YouGov opinion poll which suggested 53% of people in Scotland believed referendum donations should be controlled in this way, compared to 27% who disagree.
SNP campaign director Angus Robertson said that, until the anti-independence campaign agrees to voluntary rules on transparency, accusations would remain that it is being "flooded with money from outside Scotland".
Mr Robertson said: "The No campaign is a Tory-led campaign - the last thing that people in Scotland want is for it to also be a Westminster Tory-funded campaign."
Foreign donations
Scottish Labour MSP Richard Baker, one of the directors of Better Together, said the campaign would "absolutely" accept donations from elsewhere in the UK.
Speaking on the Sunday Politics Scotland programme he said: "What we said was that at the moment, because the SNP haven't put forward the referendum bill yet, there are no rules yet governing donations.
"We have said that despite that, we will voluntarily abide by the appropriate legislation which is the Parties, Elections and Referendums Act, and that means we will not be accepting foreign donations, and will also be publishing on our website all donations above £7,500.
"So when Blair Jenkins talked about transparency in donations I am happy to agree with him on that and we will maintain the same level of transparency in terms our donations as well."
He added: "We will not accept foreign donations but we do not regard the rest of the UK as foreign donations. We are fighting to keep the UK together and 800,000 Scots live and work in the rest of the UK."