Prostitution law plea rejected by Scottish Parliament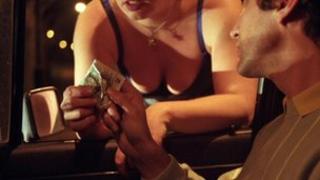 A plea to fast-track a law making it an offence to pay for sex has been rejected at Holyrood.
The proposal, by Labour MSP Rhoda Grant, must now go out to consultation, instead of taking a quicker route through the Scottish Parliament.
Ms Grant argued a previous attempt to pass such a law meant the issues had already been aired.
The Scottish Parliament's justice committee rejected the MSP's request, in a vote taken in private.
Ms Grant said that by criminalising those who use prostitutes through her proposed Purchase of Sex Bill, demand for prostitution would be reduced.
A similar proposal in 2010 was opposed by ministers, who feared it would push the sex trade underground.
Critics of such legislation believe that making workers in the sex trade less visible to the authorities would place them in greater danger.
Current laws already aim to crack down on soliciting and loitering.
However Janine, who described herself has having formerly worked as a prostitute, said she supported moves to criminalise the men who paid women for sex.
She told BBC Scotland's Call Kaye programme: "I agree that men should be targeted because I worked in a sauna once where the police came in.
"The guys there all just got up an walked out while we all got charged."
Making the argument that her bill needed no public consultation, Ms Grant said: "If you have a consultation and you're influenced by the outcome of that consultation, and that then means you have to go to have a further consultation, you would actually never get anything done."
MSPs on the justice committee did not agree with the request, and the proposals will now have to undergo a period of consultation, as is normal with draft Holyrood legislation.
The committee said it was needed to show all people had been given a clear opportunity to express their view.