SNP adviser cleared over News Corp contact complaint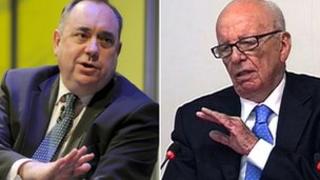 A Scottish government special adviser has been cleared over allegations of inappropriate contact with News Corporation.
Labour MSP James Kelly claimed Alex Salmond adviser Geoff Aberdein had breached the code of conduct by which he is required to abide.
It surrounded News Corp's planned takeover bid for BSkyB, which was later scrapped.
Scotland's top civil servant Sir Peter Housden said there was no code breach.
The complaint arose in the wake of earlier evidence to the Leveson Inquiry on press standards, during which an email was read out suggesting Mr Salmond's adviser had agreed to call the UK culture secretary about BSkyB.
The opposition had asked whether Mr Salmond was prepared to lobby on behalf of News Corp's takeover bid for BSkyB.
Mr Kelly sought to compare the case with that of Adam Smith, the former adviser to UK Culture Secretary Jeremy Hunt who quit the job after admitting his contact with the company "went too far".
But, in his ruling, Sir Peter, permanent secretary to the Scottish government, said a meeting between Mr Aberdein and News Corp public affairs director Frederic Michel on 11 February 2011 took place with Mr Salmond's full knowledge and authority.
In a letter to Mr Kelly, Sir Peter stated: "In his dealings with News Corporation, the first minister was not carrying out any statutory function in connection with the regulation of the media.
"His interest was in relation to BSkyB as a significant private employer in Scotland and the potential for the creation of additional jobs here.
"The investigating officer concluded that there had been no breach of the code of conduct for special advisers or the Scottish ministerial code.
"At no time did Mr Aberdein misuse his position or information acquired in the course of his official duties."