Sir Tom Hunter says Scotland needs more fiscal powers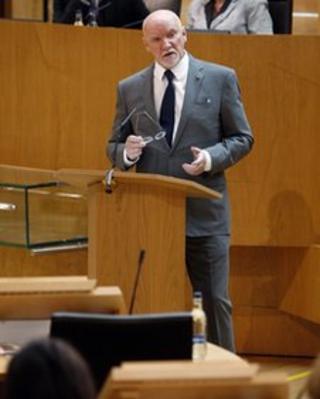 Entrepreneur Sir Tom Hunter believes all politicians should back more fiscal powers for Scotland.
He made the remark during a Business in Parliament conference at Holyrood.
Sir Tom said he was as yet unsure about whether "we need independence" but he was certain Scotland needed to be responsible for raising taxes.
First Minister Alex Salmond also spoke at the event. He said successes seen in the food and drinks sector could be repeated across other industries.
Sir Tom told the gathering inside the parliamentary chamber that "politicians of every hue should have the maturity and decency to put party politics aside and do what is right for Scotland by coming together for our great nation".
He said: "We in Scotland need fiscal responsibility. Quite simply, we need to be responsible for what we raise in tax and what we spend in tax.
"I don't know if we need independence yet. I'm still waiting to hear both sides of the argument. Hopefully, we won't have to wait too long. But I do know that we need to have that debate."
He challenged everyone "to raise our game and invent the new Enlightenment" by getting "our business birth rate up".
Sir Tom added: "Small businesses account for more than half the job creation in the most of the G20 nations, but Scotland's recent history is not good enough.
"In 1998 I invested in the Hunter Centre for Entrepreneurship at Strathclyde Uni and subsequently put more capital into enterprise education to try and help change the culture. In 2003 Scotland had 36 new business registrations per 10,000 adults. It's still the same.
"The irony is it was the Hunter Centre who could tell me that I had failed. We are collectively complicit in doing what we have always done or, at minimum, doing new things that haven't moved the dial one iota or maybe just a wee bit.
"But marginal growth cannot and will not secure our position as a leading small nation in the world."
Increased profile
Mr Salmond told the conference delegates that Scotland had always been an open and international economy.
He added: "The Scottish government set a goal of increasing exports by 50% by 2017. That is ambitious. Is it achievable?
"Two months ago we announced that Scotland's food and drink exports had increased by more than 50% over the last four years."
Mr Salmond said Scottish food and drink had been promoted tirelessly by Scottish ministers around the world, while the sector had united to increase its profile.
The first minister added: "I believe that the success we have seen in food and drink can be repeated across other sectors.
"Our oil and gas supply chain for example now sells to over 100 countries. We're increasingly adding our expertise to our world-leading renewable energy sector.
"Our ambition to boost exports goes alongside the ambition to increase the number of businesses being created in Scotland."