Q&A: Your Scottish independence questions
By Steven Brocklehurst & Andrew Black
BBC Scotland news website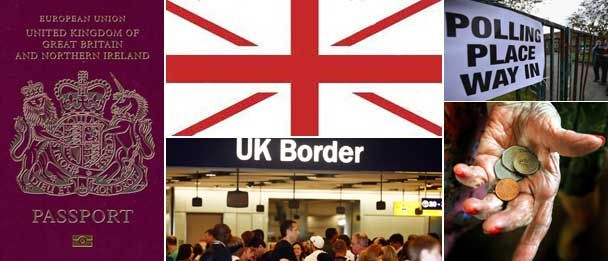 The Scottish independence referendum debate is once again in the headlines with the launch of the Better Together campaign, which is against the idea of Scotland going its own way.
Those campaigning in favour of independence have already said they want to retain the pound, keep the Queen as head of state and get rid of the nuclear weapons based at Faslane on the Clyde.
The BBC news website asked for your questions about the future of Scotland, receiving hundreds of replies.Here are the 10 most asked questions:
1) Why do people in England, Wales and Northern Ireland not get a vote?
The referendum on Scottish independence is expected to take place in the autumn of 2014.
On the ballot paper, the Scottish government wants to ask voters: "Do you agree that Scotland should become an independent country?"
But who would get to vote? The Scottish government says people in Scotland are "best placed" to decide Scotland's constitutional future, a point with which the UK government agrees.
If the people of Scotland express their wish in a "legal, fair and decisive" referendum, then it would seem unlikely that the UK would seek to block their path.
The Scottish government says the independence referendum would be held on exactly the same basis as the devolution referendum in 1997, which was run by the Labour government of the time.
They say it would be based on the "internationally accepted principle of residence". This means Scots who do not live in Scotland would not be eligible to vote.
The Scottish government wants to keep the same voter eligibility as the Scottish Parliament and council elections.
It also wants to extend the franchise to include those 16 and 17-year-olds who are on the electoral register on the day of the poll, although the UK government, which has responsibility for voter eligibility, is opposed to the idea.
The Electoral Commission watchdog has also pointed out that 16-year-olds may only currently be included on the voting register if they become 17 on or before 30 November that year.
This is because they will subsequently become 18 on or before 30 November of the following year - the period to which the register applies.
2) Will there be a Scottish passport?
Yes, says the SNP, and people would be able to choose to get a Scottish passport any time after independence or at the point when their passport was due for renewal.
Scotland's deputy first minister Nicola Sturgeon, speaking on a BBC Scotland debate programme in January this year, asserted that on the issue of passports, people would have a choice, like in Ireland.
She said: "We would have a Scottish passport. My passport says EU as well as British citizen and that's the point. We've got right of free travel. We can go to Ireland without a passport.
"People who were born here (Scotland), who live here, who've got family relationships here, will have Scottish citizenship and others would be able to apply for citizenships."
Your Scotland, Your Voice - a white paper drawn up in 2009 by the Scottish government - says citizenship would be based on an "inclusive model".
It talks of "shared or dual citizenship" and says that "as a member of the EU, Scottish citizens would have free access across Europe".
Asked if Scots could have two passports, Ms Sturgeon said: "I'm sure people would have that choice, but we'd have a Scottish passport if Scotland was independent."
Advocate General Lord Wallace (a former Lib Dem Scottish deputy first minister), when asked if the rest of the UK would be happy to issue British passports to Scots citizens under independence, said: "Frankly, I don't know. It's one of the imponderables."
3) Will there be border checks?
Scotland Forward, a more recent SNP statement on how independence would be shaped, says there would be "no checks or delays" when crossing into England, adding that there would be "no customs posts or demand for passports".
The SNP says: "Scotland will inherit and remain part of the Common Travel Area which has existed between the UK and the Republic of Ireland, and the Isle of Man, Jersey and Guernsey, for many decades, and means that no passports are required to travel across these borders, as at present.
"European and international travel will be subject to the same checks as at present."
There is one area which could cloud this situation - the Schengen Agreement.
It is a common travel area which numerous European countries are signed up to - but not the UK and Ireland.
If Scotland joins the European Union, which is the intention of the SNP, would Scotland have to join Schengen and protect its borders from non-Schengen countries?
Earlier this year, UK Home Secretary Theresa May said an independent Scotland could face "some sort of border check" if Scotland joined Schengen, comments which the SNP described as "scaremongering".
4) Will Scotland be a member of the European Union?
The SNP is in no doubt that Scotland would be part of the European Union after independence.
It says: "Scotland is part of the territory of the EU and Scots are EU citizens - there is no provision for either of these circumstances to change upon independence."
The 2009 white paper says: "Settling details of European Union membership would take place in parallel to independence negotiations with the United Kingdom government and would cover areas such as the number of MEPs and weight of Council of Ministers."
It said the question had "given rise to widely different views".
A spokesman for First Minister Alex Salmond has previously said: "Legal, constitutional and European experts have all confirmed that an independent Scotland would continue in EU membership.
"And how could it be otherwise, when Scotland has the lion's share of the EU's energy reserves, including oil and renewables?
"The fact is that the last major EU expansion in 2004 saw 10 new countries join - six of them smaller than Scotland, and six of which have become independent since 1990."
In May 2012, Deputy First Minister Nicola Sturgeon told a BBC debate that an independent Scotland would automatically gain EU membership, but did not need to use the euro.
Scottish Tory leader Ruth Davidson produced a letter from the European Commission that she said showed the SNP had never asked it what status an independent Scotland would have.
Ms Davidson said: "The fundamental question that the SNP haven't answered when it comes to Europe is that they don't accept, or won't admit, that a separate Scottish state would have to apply to join the EU.
"One of the rules for applying to join the EU is that you have to adopt the euro. That is the law, so it may not be within the choice of an independent Scotland."
Owen Kelly, chief executive of Scottish Financial Enterprise, said: "Nobody actually is arguing that Scotland would not be a member and I have certainty picked up no vibe in Brussels that there would be anything other than acceptance of that."
He said the real question was on the terms of joining.
Mr Kelly said: "If an independent Scotland would simply inherit all the UK's obligations, opt-outs, international treaties and everything else, fine.
"But if it doesn't, if that is not what is going to happen, then we really need to know because you are then looking at a period of accession and a period of negotiation."
He said: "If we had the political will I think we could find that out now. We know the terms of the referendum and the timing, what else do we need to know before asking and answering that question?"
5) What would happen to state pensions?
Your Scotland, Your Voice says: "On independence benefits, tax credits and the state pension would continue to be paid as now in an independent Scotland. It would be for future Scottish administrations to deliver improvements to the system designed for Scottish needs."
An SNP spokesman said: "People would get their full pension entitlement from day one of an independent Scotland, that is the government's guarantee.
"National insurance would continue to be paid in line with the current arrangements.
"There are EU rules in place to regulate the payment of pensions in different countries and these would, of course, be followed."
Pensions expert Malcolm McLean, from consultants Barnett-Waddingham, said: "The devil is in the detail of pensions. It's not as simple as it sounds."
He said a change of currency would cause "all sorts of problems" for the division of pension liabilities between Scotland and the rest of the UK. However, Scotland intends to continue using the pound Sterling so that difficulty may be avoided.
Mr McLean said he thought people drawing their state pension at the time of independence, if it happened, would notice little difference, especially if Scotland was an EU member.
He says: "Existing pensioners would probably be treated as overseas pensioners in the same way as UK pensioners living in other EU countries are."
The difficulties, according to Mr McLean, would come with people who have been paying national insurance contributions to the UK treasury.
He said the social security system was based on national insurance contributions, with the details held on a computer in Newcastle.
Mr McLean asked, would the Scottish government set up an equivalent database for Scotland, or would the Newcastle system be used as a base for all UK and Scottish pensions after independence?
Then there is the issue of "accrued" rights, he says, and how they would be transferred from the UK to Scotland and who would be responsible for paying the pensions.
A big problem with state pensions is that they are "unfunded", said Mr McLean.
Despite taking in the money in national insurance contributions, the pensions are paid on a pay-as-you-go basis straight out of the Treasury.
There is no state pension pot to draw on or divide up between the rest of the UK and Scotland, states the pensions expert, who argues the question of pension liabilities is a huge one which still has to be addressed.
On the issue of private pensions, Mr McLean says - although a currency union may remain - the different tax regimes in Scotland and the rest of the UK would be extra complication and cost for pension providers.
Dr Jim McCormick, of the Joseph Rowntree Foundation, thinks the division of state pension schemes is something which needs to be done "with caution".
He said it was "certainly not something you can do quickly or neatly", arguing that one way forward could be operating different pension pots for pension liabilities from the UK before independence and Scotland afterwards.
He added: "It would make perfect sense for an independent Scottish government to do some cost-sharing with a UK government for people close to the state retirement age. They could gradually move others to a new system. They would want to move with a lot of caution and partnership."
6) What would happen to the NHS?
Health has been an area of government devolved to Scotland since 1999 so the SNP argues it would be relatively easy to continue on the same path after independence. An SNP spokesman also asserted that the SNP would "be more than able to afford to fund vital services like the NHS".
And Scotland has already gone its own way on issues such as free prescriptions and free personal care for the elderly.
Scotland Forward states: "Independence will allow us to continue to maintain and develop the NHS as a priority service and to ensure it continues to provide world-class treatment."
It adds: "We will continue to maintain close links with the health service in the rest of the UK and throughout Europe, particularly when it comes to the provision of rare and specialist treatment."
7) Will Scotland share services with England?
"Yes, where there is mutual benefit," says an SNP spokesman.
He says: "The key advantage of independence is that it gives Scotland choices, and the ability to decide what is best for Scotland in each and every policy area.
"Under the current arrangements, there are a series of cross-border public bodies, with the Scottish and UK government having joint responsibility.
"Being independent is about building a new, more modern partnership in these isles. It will see the end of the political union, which means that decisions can be taken jointly by the Westminster and Scottish governments rather than by the Westminster government alone."
BBC Scotland's business and economy editor Douglas Fraser says: "This looks increasingly like being a vital area of dispute in negotiating constitutional break-up of the United Kingdom - the perception that institutions in London belong to the rest of the UK and a new status for Scotland would require new institutions, versus the assertion that Scotland can vote to be independent while demanding a share of the UK's institutional legacy.
"It applies to cross-border energy markets and assets, to cross-border telecom and rail networks, and to the BBC."
In a BBC Scotland interview on 10 March, Nicola Sturgeon, when asked about the Driver and Vehicle Licensing Agency (DVLA), based in Swansea, said: "The thing about independence is that it gives you the ability to do these things differently if you want to.
"But it also gives you the ability, in discussion with others, to share your sovereignty. And I think the DVLA is one of those things we would sit down and have a grown-up discussion with the UK government and decide that's something we should do."
The Your Scotland, Your Voice white paper raises the prospect of a UK-wide energy market, citing the Nordic countries as an example of "pooling arrangements". It also says a single electricity market now exists between the Republic of Ireland and Northern Ireland.
8) What would the Scottish Army look like?
Scotland would have an armed forces of a configuration similar to those of nations such as Norway, Denmark or Sweden, says the SNP.
"We would retain all the military bases in Scotland at the point we become independent. The big difference is that we would not have nuclear weapons, allowing us to divert the money currently spent by the UK, perhaps as much as £250m each year, to other, more useful projects."
"Scotland could focus primarily on securing its territory, compared to the United Kingdom approach of having capacity to conduct overseas wars," the 2009 white paper says.
It says Scotland would take part in peacekeeping and disaster relief.
Scotland's First Minister Alex Salmond says a "Scottish Defence Force" under an independent Scotland would comprise one naval base (Faslane without Trident), one air base and one mobile armed brigade.
UK armed forces personnel could be given some kind of option on terms of joining the new service.
Mr Salmond suggests the SDF set-up is based on the outcome of the UK defence review (which opponents say is odd, given the SNP's previous campaign to retain all three of Scotland's air force bases).
UK Defence Secretary Phillip Hammond says taking British military units into an SDF is "laughable".
Former SAS deputy commander Clive Fairweather says an independent Scotland would need its own SAS-style squadron, comprising 75 members and taking three years to set up at a cost of £10m. Oil platforms, he argues, are key terrorist targets.
One model of a slimmed-down Scots military operation, devised by Stuart Crawford, a retired lieutenant colonel in the Royal Tank Regiment, and economist Richard Marsh, suggests Scotland could defend itself with a slimmed down military, making savings worth about £1.3bn, with:
•Army one-third size of Denmark
•Navy of about 20 to 25 ships
•An air force of about 60 aircraft, but no Typhoon or Tornado fast jets
•One HQ and two brigades, but no tanks or heavy artillery
•Personnel of between 10,000 to 12,000
Professor Hew Strachan of Oxford University, a military historian and adviser to the Ministry of Defence (MoD), says Scots may wish to leave and join the armed forces in the rest of the UK.
He previously said: "Like New Zealanders who opt to serve in the Australian air force or the British Royal Air Force, or Irishmen who want to serve in the regiments of the British Army, many Scots might find their ambitions better fulfilled in the rump of the British army and so make the move out of Scottish regiments."
Alex Salmond previously told the BBC Politics Show in May 2011 his government would be prepared to share military facilities with the rest of Britain under independence.
He said: "An independent country has its own foreign policy. There's no way on earth that Scotland would ever have participated as an independent country in the illegal war in Iraq.
"That stresses why you've got to have the ability and determination in order to chart your own way in the world so that you don't get entangled into illegal and disastrous international conflicts.
"Many, many countries in the world share military facilities with friendly neighbours and there's absolutely no reason why Scotland wouldn't be prepared to do that."
9) Will Scotland have embassies?
Yes, says the SNP. It would add to the 25 or so overseas trade, tourism and government offices Scotland currently has.
A spokesman said: "At present, Scotland's taxpayers contribute more money to fund UK embassies than many smaller independent nations fund their embassies with.
"A Scottish embassy and consular network will focus more on jobs and trade and promoting Scotland internationally, with benefits for our economy."
The SNP's Scotland Forward document says "too much of UK overseas representation is based on status and power and that's not what Scotland needs".
Scotland already has its own offices in certain strategic overseas locations (Brussels, Washington DC and Beijing) to represent key interests.
10) What would happen to the Union flag?
The national flag of Scotland would be the Saltire (the St Andrew's Cross), says the SNP.
"The flag of the rest of the UK will be a matter for the rest of the UK," a spokesman said.
On BBC's Question Time programme earlier this month, the SNP's Alex Neil said the Queen was monarch in 16 countries and she would remain head of state in Scotland. Therefore he said, the union of the Crowns would remain and, thus, the Union Flag.
He said: "The union of the crowns was in 1603, 104 years before the union of the parliaments. What independence is about is the dissolution of the parliaments not the dissolution of the union of the crowns.
"When Scotland becomes independent, hopefully in 2016, the day after independence the Queen will be Queen of Scots, as she has always been, as well as the Queen of England and the Queen of Australia and the Queen of New Zealand.
"After independence will be self-governing Scotland but we will also have a British dimension as well."
Former Tory Scottish Secretary Michael Forsyth says: "The union flag is made up of the constituent parts of the United Kingdom and you can't argue that you are going to break up Britain and have a separate Scotland and still have a union flag."
Can you think of other key questions which need answering? Let us know by sending your suggestions to newsonlinescotland@bbc.co.uk and putting "independence questions" in the message field.
(Thanks for your suggestions so far, keep them coming in)