Scottish independence: Teaching union backs votes at 16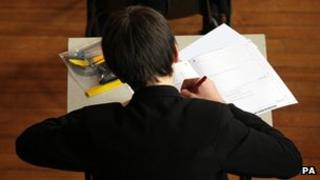 Scotland's largest teaching union has said 16 and 17-year-olds should be allowed to vote in the referendum on independence.
In a submission to the Scottish government's consultation, the EIS said young voters should take part in all elections.
It pointed out that 16-year-olds have many other rights and responsibilities, including marriage and paying taxes.
The union represents 80% of Scotland's teachers and lecturers.
EIS General Secretary Larry Flanagan said: "The EIS believes that 16 and 17-year-olds should have the vote in the referendum on Scotland's future, which is their future.
"Extending the franchise to 16 and 17-year-olds will help to foster active citizenship by giving young people a greater say in the decisions that will affect them now and in the future."
The Scottish government has already said it would like the minimum voting age to be 16.
Mr Flanagan added: "At the age of 16, young people can secure employment, pay taxes and get married.
"They can join the armed forces. It is wholly appropriate that they should also have the right to vote on the decisions that affect them, and to have a fair say in who is elected to represent them at local or national level."
The EIS has also said it favours a three option, preferential vote, which would allow people to indicate their support for substantially greater powers for the Scottish parliament short of independence.