Scottish independence: Clarity call over SNP monetary plans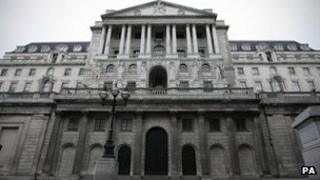 The SNP government has faced opposition demands to clarify how monetary policy would work in an independent Scotland.
The call came after Deputy First Minister Nicola Sturgeon said the country could have a seat on the Bank of England Monetary Policy Committee.
But First Minister Alex Salmond appeared to move back from that, saying Scotland, post-independence, could have a role in "appointments".
The SNP said it would keep the pound if Scotland became independent.
But the party would seek to join the Euro if economic conditions were favourable, pending a referendum.
Ms Sturgeon's comments came as she went head-to-head with opposition parties in a BBC TV debate at the weekend .
Speaking at first minister's questions, Mr Salmond said it would be "entirely reasonable" for an independent Scotland to have the same influence that the UK Treasury did over the monetary policy committee, which sets interest rates.
He said the Treasury currently appointed four of the nine members of the committee and that, after independence, Scotland would "expect to be part of the appointments process".
Labour leader Johann Lamont branded Mr Salmond's remarks "absolutely astonishing", saying Scottish minister had failed to ask bosses at the Bank of England about the issue, or if it would be the lender of last resort for an independent Scotland.
"It's just meaningless assertion after meaningless assertion," she said.
Mr Salmond said: "The current issue is we have no influence as a country on the monetary policy committee, the Bank of England is an independent central bank, it doesn't take direction on policy.
"But we should move from a position of having no influence to having proper regard in a Sterling area."
Meanwhile, the Treasury said an independent Scotland which retained the pound would "create similar risks to those we see in the Eurozone".
"If that crisis tells us anything, it is that strong control of fiscal policy and borrowing would have to be exercised centrally," said a Treasury spokesman.