Reform Scotland calls for more powers for community councils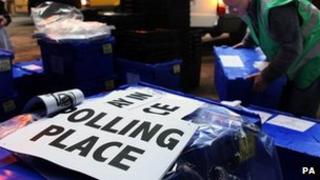 More powers should be transferred from local authorities to Scotland's network of community councils, according to an independent think tank.
Reform Scotland said the move would rejuvenate local democracy and encourage more people to get involved in politics in their area.
A survey by BBC Scotland last November found a fifth of community councils suspended due to lack of interest.
The Scottish government has set up a working group to look at the issue.
The call for community councils to be handed more responsibilities comes in a wider report by Reform Scotland, due to be published later this week, titled Renewing Local Government.
The report argues that the poor turnout at the recent council elections highlighted the need for more decisions to be made at a local level.
Reform Scotland wants more powers, including fiscal powers, devolved to local authorities and says this in turn would allow them to hand greater responsibilities to community councils.
According to the Scottish government there are about 1,200 community councils across the country.
BBC Scotland research also found that of the active community councils operating across the country, nine out of 10 were uncontested, formed without elections.
Reform Scotland carried out its own survey and received feedback from almost 100 community councils, across 24 local government areas.
About 80% of those who gave feedback said they had experienced problems filling vacancies. Half believed more powers would help improve that situation.
The think tank said 44% did not think their views were taken into account by local authorities.
'Real power'
Reform Scotland chairman Ben Thomson said: "The turnout at the 2012 local elections, the low level of contested community elections and the indications from our own survey suggest a very real problem in attracting interest in local government in Scotland.
"People instinctively know where real power resided, and at this point in time there is little power residing at a local or community council level.
"If we want to rejuvenate local democracy, we need to give the electorate a reason to get involved."
Reform Scotland asked those involved in community councils about how more volunteers could be attracted and what kind of improvements could be made.
Respondents called for greater responsibilities, better publicity, and more training and resources.
The Scottish government has established a short-life working group on the future of community councils. It is due to report later this year.