Scottish independence: Military man says Scots SAS is needed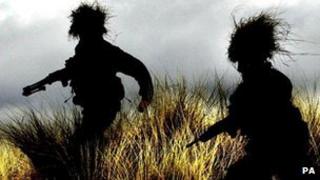 A former member of the SAS believes an independent Scotland would need its own special forces squadron.
Clive Fairweather told an Edinburgh defence conference that such a squadron would need 75 members and take three years to set up at a cost of £10m.
The gathering of serving soldiers and academics were discussing defence capabilities should voters answer 'yes' in an independence referendum.
The SNP government wants to hold the poll in autumn 2014.
The conference, hosted by The Scotsman newspaper, was also told that in the short term it would be difficult to recruit the right people to fill military forces after independence.
The delegates have urged politicians and officials to start thinking now about intelligence gathering, anti-terrorism and how a defence force would be recruited before the referendum in two-and-half years.
Former SAS deputy commander, Mr Fairweather said Scotland's oil and gas platforms would be the most likely targets for any terrorist attack.
He argued the case for a new special forces squadron, costing about £5m a year to run, to replace the functions of the SAS.
Mr Fairweather added: "Where are we going to get these individuals? On the announcement of independence, I'm sure patriotic Scots SAS and SBS will be rushing north to become the backbone.
"Actually, I reckon that would be about a handful. The remainder will probably stay on for a more professional opportunity elsewhere. That would be my guess."
To counter those concerns, he said preparation must start now.
Mr Fairweather said: "We can't wait until day one of independence.
"Some preparation will have to be made to cobble that force together beforehand. There will have to be a very fuzzy overlap where English special forces would still come to the rescue before we're finally able to go ourselves."
He added: "We won't find out until after independence quite who our enemies are and how they're going to operate. At the moment we're lumped in with the Welsh, the English and the Irish."
Professor Hew Strachan, a military historian and adviser to the Ministry of Defence (MoD), said Scots may wish to leave and join the armed forces in the rest of the UK.
He said: "Like New Zealanders who opt to serve in the Australian air force or the British Royal Air Force, or Irishmen who want to serve in the regiments of the British Army, many Scots might find their ambitions better fulfilled in the rump of the British army and so make the move out of Scottish regiments."
Professor Strachan, of Oxford University, said defence policy focused too often on the military.
He explained: "It focuses on the army to the exclusion of the navy or the air force.
"(Scotland's) coastline, its coastal waters, its islands, to say nothing of its shipping and trading heritage, ought to make its maritime and naval inheritance much more powerful than its military one."
The conference also heard from Stuart Crawford who retired as a lieutenant colonel in the Royal Tank Regiment.
Extra money
Working with economist Richard Marsh, he suggests Scotland could defend itself with a slimmed down military, making savings worth about £1.3bn.
The Scottish forces would not be able to operate on the same global scale and would have an army about one-third the size of Denmark's.
Mr Crawford said: "We decided to approach this by asking first what the armed forces is for, what you need to fulfil the purpose and how much that would cost."
He said other approaches were flawed: "You wouldn't look into building hospitals just to give doctors jobs."
His model would include a navy of about 20 to 25 ships. The air force would have about 60 aircraft but no Typhoon or Tornado fast jets.
The army would have an HQ and two brigades but no tanks or heavy artillery. It would have between 10,000 and 12,500 personnel, about one-third the size of the Danish army, but larger than the Irish military.
Mr Crawford said it would be up to politicians to decide whether or not to spend the extra money on building up the military or to use the money in other areas such as schools and hospitals.